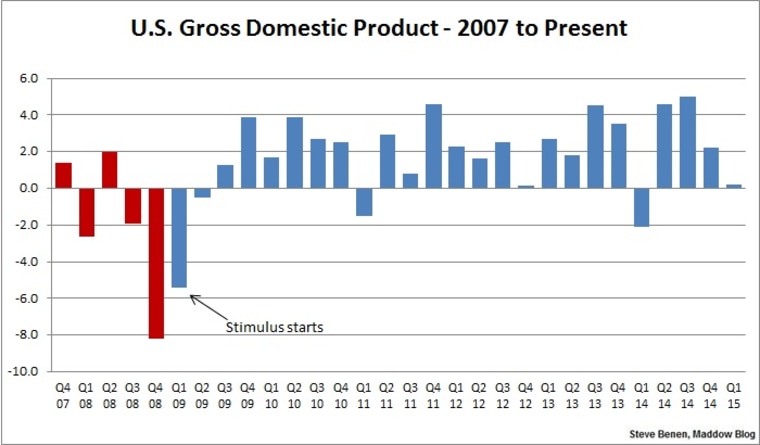 U.S. economic growth braked more sharply than expected in the first quarter as harsh weather dampened consumer spending and energy companies struggling with low prices slashed spending, but there are signs activity is picking up. Gross domestic product expanded at an only 0.2 percent annual rate, the Commerce Department said on Wednesday.... A strong dollar and a now-resolved labor dispute at normally busy West Coast ports also slammed growth, the government said.
This is, of course, a preliminary tally, which will be revised twice over the next two months, though few seem to think a major upward revision is likely.
That said, that's not the only caveat that matters. Anemic economic growth is never a good sign, but reports like these don't cause too much anxiety because the relevant details aren't quite as discouraging as the top-line number.
Neil Irwin
notes
why economic observers are far more interested in the second quarter's GDP than the first.
The weak economic readings to start both this year and last reflect two consecutive years of unusually bad winter weather in heavily populated parts of the country, combined with evidence that the formulas used to adjust for the normal seasonal variations may be creating a distorted picture regarding the January-through-March quarter. The real test for the economy is whether the first quarter will, as was the case last year, turn out to be an aberration, with a catch-up effect happening in the form of apparently strong growth in the spring and summer months.
Keep in mind, perhaps the most striking takeaway from the latest growth report is the fact that exports dropped sharply -- no doubt a direct result of a stronger U.S. dollar, which makes American products more expensive abroad.
Indeed, Jared Bernstein
added
, "I certainly would consider this a reminder of the growth downside of the strong dollar."
As for the image above, the chart shows GDP numbers by quarter since the Great Recession began. The red columns show the economy under the Bush administration; the blue columns show the economy under the Obama administration.