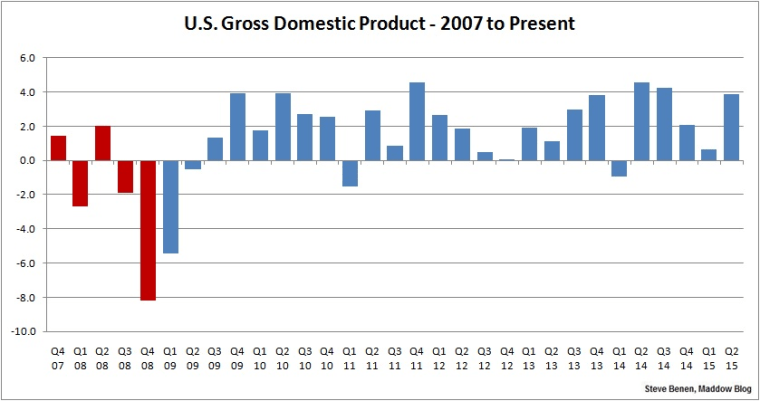 The U.S. economy grew almost 4% in the second quarter, powered by higher consumer spending and a bit stronger business investment than previously reported, revised figures show. Gross domestic product -- the value of everything a nation produces -- rose at a 3.9% annual rate from April to June, according to the government's second update of how fast the nation's economy expanded during the spring. Previously the Commerce Department had said GDP increased 3.7%. The figures get revised as the government gets more data on how the economy performed.
As 2015 got underway, Senate Majority Leader Mitch McConnell (R-Ky.) argued that Republicans
deserve credit
for the nation's improved economic conditions. They hadn't actually done anything, McConnell conceded, but Americans were just so darn excited about a GOP-dominated Congress that it gave the whole economy a boost.
With that in mind, I'd bet good money that at least one prominent Republican voice -- someone, somewhere -- will argue today that stronger economic growth is the result of Americans feeling excited about the prospect of a GOP president in 2017.
It's worth emphasizing that quarterly growth numbers can vary quite a bit, and while 3.9% GDP growth in the spring is encouraging, projections point to growth of about 2.5% in this quarter, and growth of about 2.3% for the year overall.
As for the image above, the chart shows GDP numbers by quarter since the Great Recession began. The red columns show the economy under the Bush administration; the blue columns show the economy under the Obama administration.