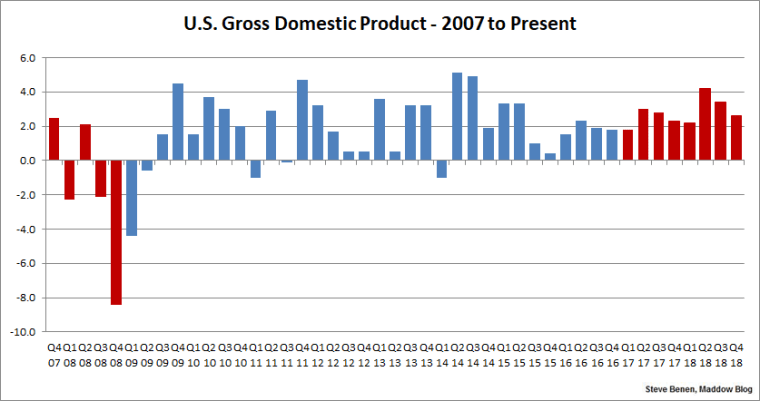 For several months, Donald Trump talked up the quarterly GDP report from the spring and early summer of 2018, when economic growth soared. He'll probably have much less to say about the new data, released this morning.
The American economy is slowing. The question now is by how much -- and how far that slowdown will go.Gross domestic product -- the broadest measure of goods and services produced in the United States -- grew at a 2.6 percent annual rate in the final three months of last year, the Commerce Department said Thursday. That marks a significant slowdown from the middle of the year, when a sugar high fueled by tax cuts briefly pushed growth above 4 percent.
The 2.6% rate for the quarter is down from the previous two quarters, but the tally, which will be revised in the coming months, was a little better than expected.
For the calendar year, the new data points to annual growth of 2.9% in 2018, which matches the growth we saw in 2015. It's a perfectly respectable number, indicative of a healthy economy.
That said, the White House and its allies made no secret of the fact that they wanted to reach the 3% threshold -- which, if nothing else, would've given them bragging rights about a growth rate unseen in over a decade.
Regardless, growth of 2.9% for the year is up from 2.3% in 2017. Trump may have promised annual growth between 4% and 6% -- why he set expectations unreasonably high is a mystery -- but by sensible measures, last year was a good one for the overall economy.
As for the image above, the chart shows GDP numbers by quarter since the Great Recession began. The red columns show the economy under the Bush and Trump administrations; the blue columns show the economy under the Obama administration.