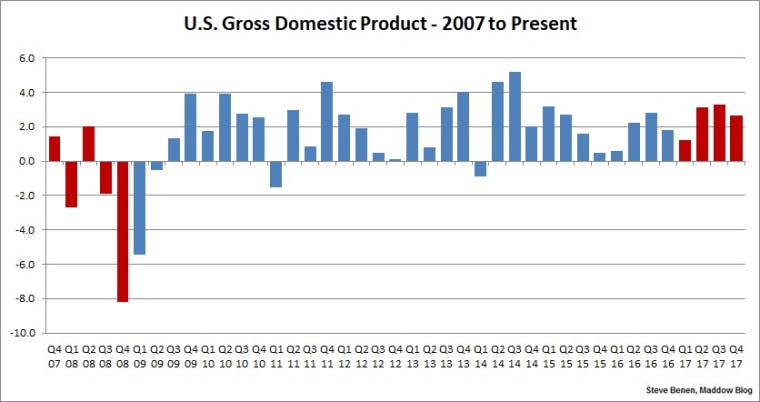 Headed into this morning's GDP report from the Commerce Department, many expected fourth-quarter growth of about 3%, which would have been a notable achievement: we haven't seen three consecutive quarters of 3% growth since before the Great Recession started.
Alas, it looks like we fell just short.
The U.S. expanded at a 2.6% annual pace in fourth quarter, extending one of the best stretches of growth during the current eight-and-a-half-year-old upturn. GDP fell short of MarketWatch's 3% forecast, however, owing to lower inventory production and a bigger trade deficit.
To be sure, 2.6% growth is consistent with a healthy economy. Indeed, this report suggests the full year's growth for 2017 will also be around 2.6%, which will be up from 2016, and tied with 2015.
When Donald Trump tells the public that no one's seen economic growth like this in a long time, as he's very likely to do, it's worth remembering that 2015 was not a long time ago.
But it's also a reminder that the Republican president's vow of 4% annual growth rates really wasn't a good idea. As the economic recovery that began in 2009 continues, Americans have reason to be pleased with the overall health of the economy, but Trump routinely promised "4% annual economic growth" -- and in some cases, he suggested his policies could push growth to as high as 6%.
At the time, those assurances seemed bizarre, and as GDP data from 2017 comes into focus, it's now obvious that the president never should have made these promises. Not only will he fail to deliver the results, but the exaggerated goals end up putting decent economic growth in a less favorable light.
As for the image above, the chart shows GDP numbers by quarter since the Great Recession began. The red columns show the economy under the Bush and Trump administration; the blue columns show the economy under the Obama administration.