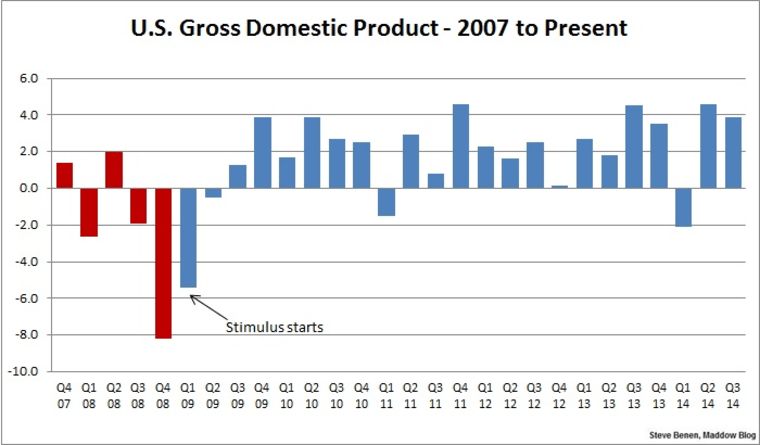 The economy expanded even faster in the third quarter than previously reported, offering fresh evidence that the U.S. entered the final months of 2014 on an accelerated track. Gross domestic product rose by a 3.9% annual pace in the period running from the beginning of July to the end of September, the Commerce Department said Tuesday.
Factoring in growth from the second quarter (April through June), we've seen growth of 4.2% over the last six months -- the strongest in 11 years. What's more, this is the first time since before the 2008 crash that we've seen growth above 3% in four of the last five quarters.
Though the final GDP tally will still be revised once more, all of the news looks very good at this point, including improved consumer spending and business investment.
As for the politics of this, one wonders how Republicans will explain the data.
Remember, while no one is suggesting the economy is suddenly booming -- it's not -- it is improbably strong given economic downturns abroad.
For that matter, Republicans are convinced -- or, at least they claim to be convinced -- that the combination of the Affordable Care Act, federal regulations, Dodd-Frank reforms, and higher taxes approved last year are a brutal "wet blanket" on economic growth.
Given this, shouldn't these economic figures be practically impossible?
As for the image above, the chart shows GDP numbers by quarter since the Great Recession began. The red columns show the economy under the Bush administration; the blue columns show the economy under the Obama administration.