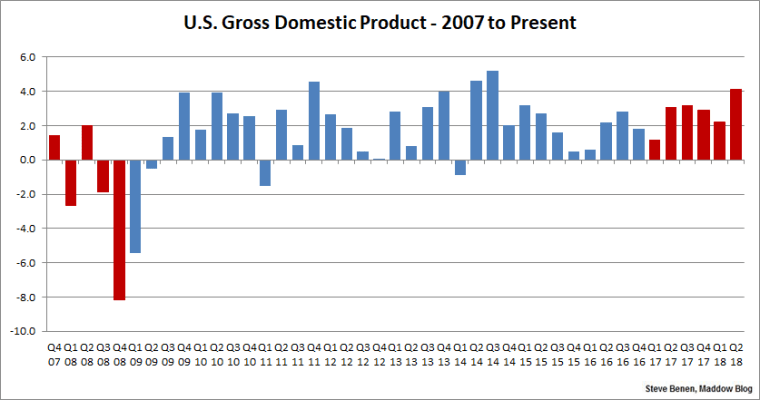 Donald Trump spoke with great anticipation yesterday about today's report on domestic economic growth. As the New York Times  noted, the president "didn't wait to herald the rosy news. At an event in Iowa on Thursday, he said he was expecting a very strong result, noting predictions that ran to 5 percent or higher. 'It could be very close,' he said. 'Could even happen.'"
Perhaps he shouldn't have set expectations quite this high. The Commerce Department reported this morning that the economy grew at an annual rate of 4.1% in the second quarter -- April through June -- which at face value is an excellent number, even if the figure fell short of presidential hype.
Complicating matters, there's reason to believe today's report points to an artificially inflated number, driven by expectations about the White House's trade agenda. As the Washington Post's Catherine Rampell explained yesterday, quarterly growth at 4.1% is great news, but it comes with an asterisk.
[A]nother major factor is that businesses freaking out about Trump's trade war likely pulled forward some of their activity. That is, as Morgan Stanley chief U.S. economist Ellen Zentner puts it, they "doomsday prepped" by stockpiling raw materials, intermediate goods and finished products before tariffs raised costs on all those things.Soybean exports surged, for example, as companies raced to beat retaliatory tariffs that went into effect this month. The jump in soybean exports alone probably added 0.6 percentage points to GDP growth in the second quarter, estimates Ian Shepherdson, chief economist at Pantheon Macroeconomics.We should expect a reversal later this year, as buyers run down their existing inventory rather than place new orders. In other words, perhaps a bit counterintuitively, the very thing that may make Trump think his trade war is working -- unusually strong growth this past quarter -- may be evidence it's about to backfire.
Indeed, the New York Times  added that the factors that created strong growth in the second quarter "won't last, and economists expect growth to slow in the second half of the year."
These are details to keep in mind when Trump starts bragging about figures he may not fully understand,
As for the image above, the chart shows GDP numbers by quarter since the Great Recession began. The red columns show the economy under the Bush and Trump administration; the blue columns show the economy under the Obama administration.