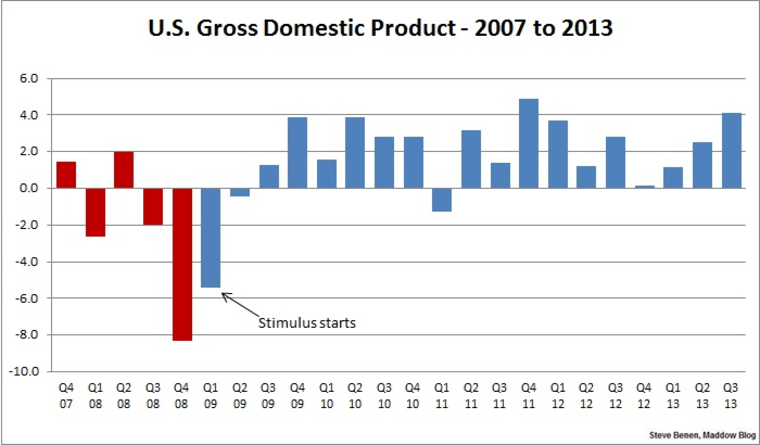 When the initial estimates for economic growth in the third quarter -- covering July, August, and September -- were released in early November, the figures
exceeded
expectations. Now that the totals have been revised twice, the GDP numbers turned out to be
much better
than than originally thought.
The U.S. economy expanded at a 4.1% annual clip in the third quarter, the strongest performance in two years, owing to faster consumer spending and more business investment in intellectual property such as software, according to newly revised government figures. The Commerce Department previously reported that gross domestic product had risen at a 3.6% annual rate. Consumer spending rose 2% instead of 1.4% as previously reported, though the increase in outlays was largely directed toward gasoline and health care. Business investment in software was revised up sharply to a 5.8% increase from 1.7%. Companies stockpiled $115.7 billion worth of inventories in the third quarter, barely changed from the prior reading.
Going into this morning, economists had
expected
"the final estimate of growth to be unchanged from that 3.6 percent."
To put this number in a slightly larger context, note that 4.1% quarterly growth is the second strongest growth we've seen since the start of the Great Recession nearly six years ago. What's more, this is only the third time in the last nine years that the GDP has topped 4%.
As for the image above, the chart shows GDP numbers by quarter since the Great Recession began. The red columns show the economy under the Bush administration; the blue columns show the economy under the Obama administration.