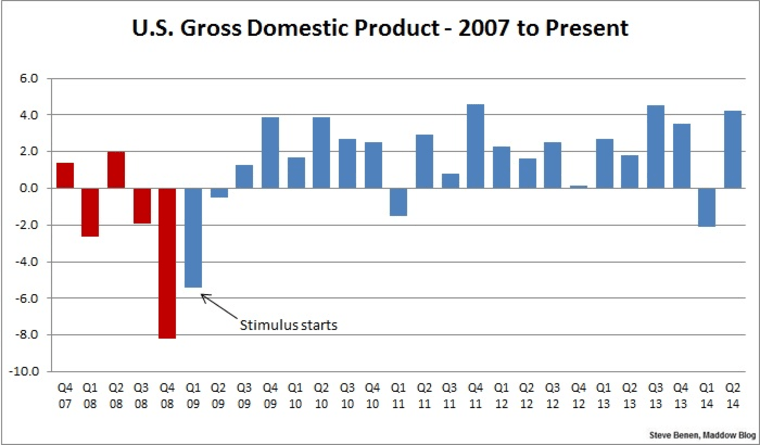 The U.S. economy grew at a slightly faster 4.2% annual pace in the second quarter, mainly because businesses invested more in buildings and equipment than previously reported, the Commerce Department said Thursday. Initially the government said the U.S. expanded at a seasonally adjusted 4% clip. Economists polled by MarketWatch predicted gross domestic product would be revised down a tick, but business investment and net exports were stronger than expected.
And this, in a nutshell, is why so few panicked over the first-quarter data.
Jason Furman, chair of the White House Council of Economic Advisers,
added
, "Looking at four- and eight-quarter changes to smooth some of the quarter-to-quarter volatility, it is clear that many components of GDP are showing improvement. The growth rates of consumer spending, business investment and exports have all picked up, and the pace of declines in the Federal sector have moderated a bit. In addition, the State and local government sector has turned positive, after several years of steady cutbacks."
In case it's not obvious, no one should get too excited about a small upward revision. It's good news, of course -- it's better to see the number go up than down -- but we're still looking at modest overall shifts.
That said, the data certainly reinforces the impression that the report for the first quarter really was a fluke, and the overall health of the national economy is at least moving in the right direction.
What's more, the swing from -2.1% to +4.2% is easily the largest positive quarter-to-quarter swing since the start of the Great Recession is late 2007.
As for the image above, the chart shows GDP numbers by quarter since the Great Recession began. The red columns show the economy under the Bush administration; the blue columns show the economy under the Obama administration.