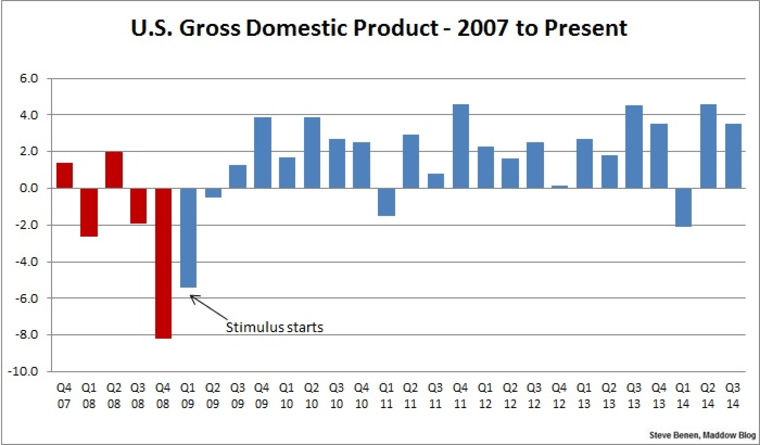 And what of the third quarter (July through September)? Most projections pointed to growth of
about 3%
. As it turns out, it looks like the economy was
even stronger
than that.
The U.S. economy grew at a 3.5% annual pace in the third quarter, aided by a surge in exports and a big jump in military spending, the government said Thursday. Economists polled by MarketWatch had predicted gross domestic product would expand by a seasonally adjusted 3%. The increase in consumer spending, the main source of U.S. economic activity, slowed to a 1.8% annual pace from 2.5% in the prior quarter. Business investment on equipment, while up 7.2%, also decelerated, as did outlays on housing construction. Yet exports surged 7.8% while imports dropped 1.7%, making trade the biggest contributor to economic growth in the third quarter. A 10% jump in federal spending, mostly on Pentagon hardware, also bolstered growth. It was the biggest increase in federal spending since 2009, when the Obama administration put in place a huge economic stimulus package.
The overall GDP figure is encouraging, but that part about Pentagon spending points to a potential downside to the new data -- that jump in spending won't continue.
Still, the news looks pretty good overall, and the report reinforces the impression that the economy is growing steadily. Indeed, this is the first time since before the 2008 crash that we've seen growth above 3% in four of the last five quarters.
It's worth noting, of course, that today's report is a preliminary assessment, which will be revised twice more in the coming months. It's too soon to say whether the figure will be revised up or down.
As for the image above, the chart shows GDP numbers by quarter since the Great Recession began. The red columns show the economy under the Bush administration; the blue columns show the economy under the Obama administration.