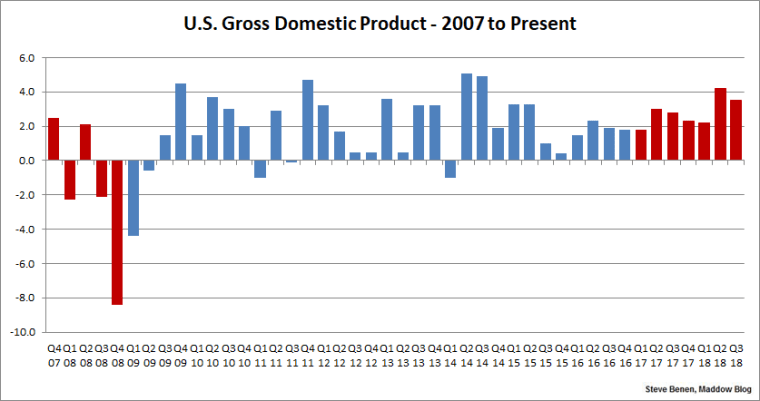 Donald Trump has talked about economic growth in the second quarter -- April through June of this year -- countless times in recent months. Whether the president understands the difference between quarterly growth and annual growth is unclear, but the fact that GDP reached 4.2% in the second quarter was, according to the White House, proof of how awesome Trump's awesomeness is.
But as nearly everyone realized, the GDP figures were unlikely to stay that high, and as we learned this morning, they didn't.
Gross domestic product decelerated a bit to a 3.5% annual pace in the third quarter, down from torrid 4.2% pace in the prior three months, the government said. GDP is the official measuring stick for the U.S. economy. The gain was very close to Wall Street estimates.
The fact that growth cooled a little might seem discouraging, but make no mistake: this morning's report from the Commerce Department points to good news and a healthy economy. In fact, it now appears growth for 2018 will top 3% for the first time in 13 years, which is very encouraging.
As for the politics of all the data, this gets a little tricky. On the one hand, Trump and his Republican allies are likely to tout the latest numbers as proof that the GOP has built on the healthy economy they inherited from Barack Obama's administration two years ago. Predictions that Republican control would quickly push the economy lower didn't pan out.
On the other hand, as we discussed a few months ago, Candidate Trump routinely promised "4% annual economic growth" -- and in some cases, he suggested his policies could push growth to as high as 6%.
By setting expectations unreasonably high, the president inadvertently made good news appear less encouraging.
As for the image above, the chart shows GDP numbers by quarter since the Great Recession began. The red columns show the economy under the Bush and Trump administration; the blue columns show the economy under the Obama administration.