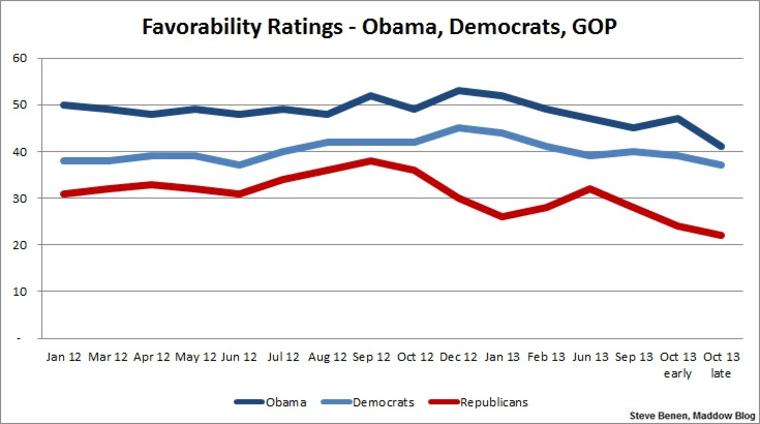 A new NBC News/
Wall Street Journal
poll
offers bad news to just about everyone. To the delight of Republicans, for example, President Obama's approval rating has dropped to its lowest point ever in this poll, battered by public dissatisfaction over the economy and Washington dysfunction, and compounded by brutal coverage of a poorly performing website.
But the GOP isn't benefiting from the president's struggles. The last survey from this pollster found Republicans' favorability rating reaching an all-time low, and this new poll shows the party's standing deteriorating even more.
It's akin to a partisan version of mutually assured destruction -- GOP officials hoped to generate public contempt for Washington, and they're succeeding beautifully -- except Obama's already been re-elected and won't be on the ballot again.
What's more, though the Affordable Care Act remains unpopular, the far-right line still isn't resonating. Despite all the recent hysteria,
less than a fourth
of the country (24%) agrees with the Republican line that the entirety of the law should be eliminated. A combined 44% plurality believes "Obamacare" is either working well the way it is or needs only "minor modifications."
Conservatives who hope to destroy the system have succeeded in bringing attention to implementation problems, but they're not winning converts to their crusade.
As for bigger picture, the public appears discouraged and pessimistic, with only 22% believing the nation is headed in the right direction, and an amazing 74% believing that Congress is contributing to problems rather than solving them.
Lawmakers could probably help turn these figures around by passing a popular immigration bill, reaching a bipartisan budget deal, and giving the economy a boost by ending the sequestration policy, but for now, most congressional Republicans are unwilling to consider these steps.