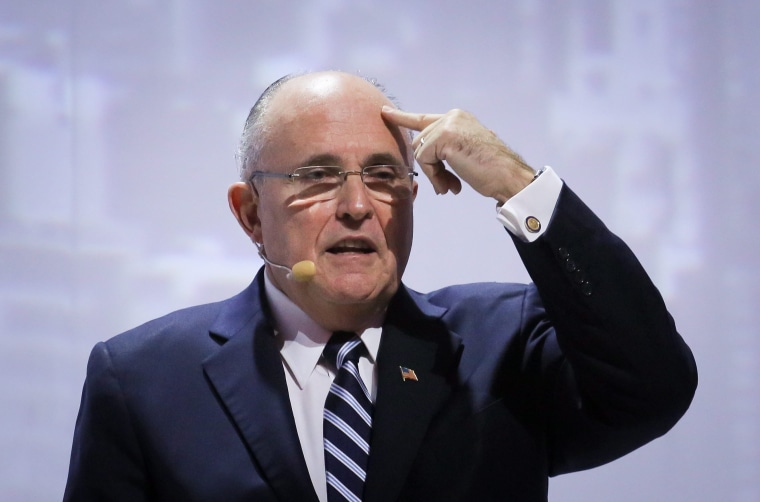 In practical terms, this apparently means a shift away from answering questions about official misconduct and towards complaining about those asking the questions.
Rudy Giuliani, for example,
told
"Meet the Press" yesterday that the investigation into the bridge scandal is "clearly ... a partisan witch hunt." It's an odd argument.
According to Christie, top officials on his team conspired in secret to exact political retribution on at least one community in New Jersey. They acted deliberately and with forethought, scheming behind the scenes, and then lied about it. That's what happened according to the governor himself . With this in mind, how in the world can an investigation into admitted corruption represent "a partisan witch hunt," led by state lawmakers to whom the governor has already apologized?
The other part of "playing offense" apparently means complaining about news organizations. The governor's press office, in the wake of
new allegations
from Hoboken Mayor Dawn Zimmer (D), sent out this statement:
"MSNBC is a partisan network that has been openly hostile to Governor Christie and almost gleeful in their efforts attacking him, even taking the unprecedented step of producing and airing a nearly three-minute attack ad against him this week. Governor Christie and his entire administration have been helping Hoboken get the help they need after Sandy, with the city already having been approved for nearly $70 million dollars in federal aid and is targeted to get even more when the Obama Administration approves the next rounds of funding. "The Governor and Mayor Zimmer have had a productive relationship, with Mayor Zimmer even recently saying she's 'very glad' he's been our Governor. It's very clear partisan politics are at play here as Democratic mayors with a political axe to grind come out of the woodwork and try to get their faces on television."
There is a pretty standard tactic in Political Crisis Management 101: discredit those asking the questions. The strategy, however, is not without flaw.
For example, Team Christie has not yet uncovered any factual errors in MSNBC reporting, which would presumably be the prerequisite to any complaints. When allegations of wrongdoing surface, this is not a sound defense: "The allegations are wrong because they've been reported by journalists we don't like." A better defense would be, "The allegations are wrong and here's why."
What's more, whether or not the governor and his supporters like MSNBC, it would appear Christie's office wants the public to distrust reporting from this network, the Wall Street Journal, the Star-Ledger, the Bergen Record, and other news organizations from across the Garden State -- all because of reporting on corruption that Christie himself has already admitted happened.
Indeed, recent history offers a helpful perspective. When the bridge controversy first arose, the governor's aides characterized the allegations as "crazy," and mocked journalists for having the audacity to even ask questions about it. We now know those denials were wrong and top officials in the Christie administration were lying -- misconduct for which the governor has since apologized. And yet, here we are again, with Team Christie dismissing credible allegations and condemning journalists, not for having erred, but for raising questions the governor and his admirers don't like.
The temptation to blame the messenger must be strong, but what matters in the growing list of scandals is evaluating the allegations on the merits, not the Christie administration's interest in media analysis.