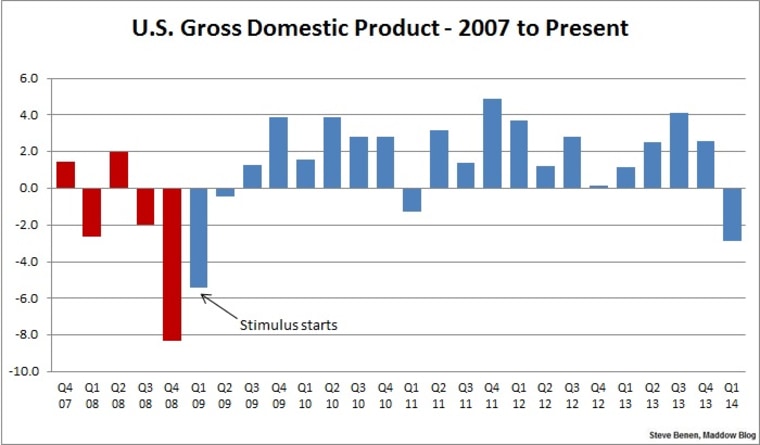 The U.S. economy shrank by a 2.9% annual pace in the first quarter instead of 1% as previously reported, marking the biggest decline since early 2009 when the Great Recession was winding down. The rise in consumer spending, the main source of U.S. economic activity, was slashed to 1% from 3%, largely because Americans reduced spending on health care and other services.
As the above chart shows, this was the worst quarter for economic growth since the first quarter of 2009 -- when the economy was facing a massive crisis.
So, is this GDP report cause for alarm? It's certainly not good news, but for a few reasons, it's probably best to keep the handwringing in check.
For one thing, most economists and financial-industry analysts expect the economy to bounce back in the second quarter, which ends next week. Indeed, as discouraging as the first quarter data is, note that it points to a time period from several months ago.
For another, there's a broader context to consider. When the economy shrank in the first quarter of 2009, for example, the U.S. lost over 2.3 million jobs. When the economy shrank in the first quarter of 2014, the U.S. added nearly 600,000 jobs and is currently on pace for its best year for job creation since the late '90s.
This is hardly the stuff of panic.
The contraction was real and important, but it was also the result of unexpected shifts in health care spending and an unusually harsh winter for much of the country. There's very little to suggest, at least at this point, that it's the start of a downward trend in the economy overall.
That said, if policymakers in Washington are concerned enough to give the economy a boost, they can consider straightforward measures that would promote growth and create jobs: invest in infrastructure, restore extended unemployment benefits, hire public-sector workers like teachers and first responders, and basically abandon austerity measures in general.
None of this seems likely, of course, given congressional Republicans' unyielding ideological agenda, but it's nevertheless something to keep in mind as the Beltway responds to the new GDP report.
As for the image above, the chart shows GDP numbers by quarter since the Great Recession began. The red columns show the economy under the Bush administration; the blue columns show the economy under the Obama administration.