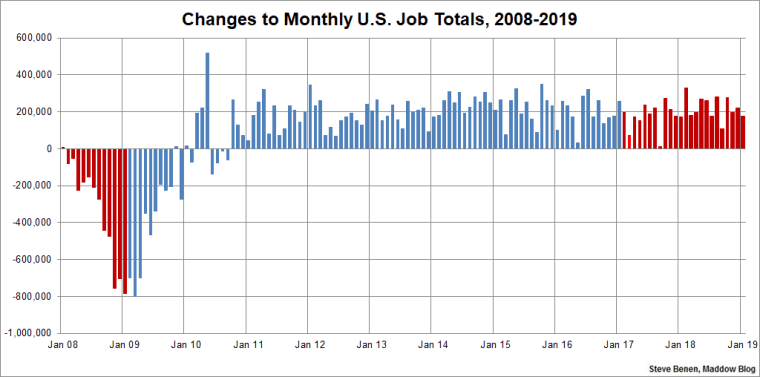 It was tough to know what to expect from the latest jobs report. After all, most of January saw a lengthy government shutdown, which had some detrimental effects on the economy. Would it undermine the job market?
Evidently not. The Bureau of Labor Statistics reported this morning that the economy added an unexpectedly robust 304,000 jobs in January, while the unemployment rate inched a little higher, climbing to 4%. (There's a difference between how the job-total surveys and the jobless-rate surveys are conducted.)
In terms of revisions, every year at this time, the BLS published an updated monthly tally from the entirety of the previous year. Some months were revised up, others down, but the bureau now points to an annual total of 2.67 million jobs created in the 2018 calendar year.
That's quite good, and it's an improvement on the totals from 2017 (2.19 million) and 2016 (2.34 million). That said, the 2017 tally is still short of the job totals from 2014 (3.01 million) and 2015 (2.69 million).
As for the political implications, Donald Trump has now been in office for 24 full months -- February 2017 through January 2019 -- and in that time, the economy has created 4.78 million jobs. In the 24 full months preceding Trump's presidency -- February 2015 to January 2017 -- the economy created 5.08 million jobs.
The White House has not yet offered an explanation for why job growth has slowed since Trump took office.
Above you'll find the chart I run every month, showing monthly changes in total jobs since the start of the Great Recession. The image makes a distinction: red columns point to monthly changes under the Bush and Trump administrations, while blue columns point to monthly job changes under the Obama administration.