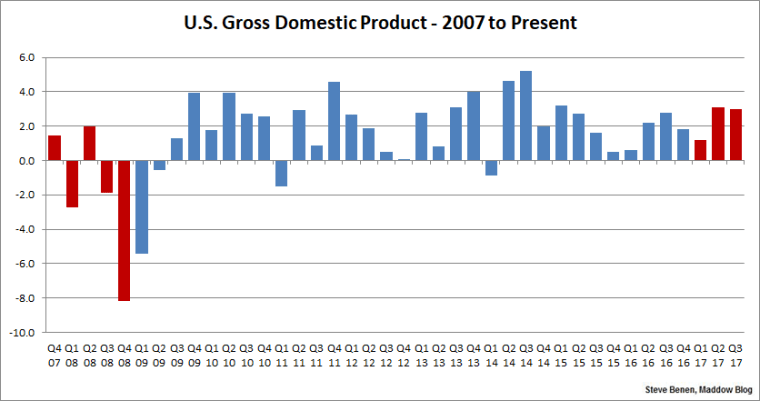 There were some concerns among economists that the hurricanes over the summer would undermine the nation's recent economic growth, but there's fresh evidence that the recovery that began in 2010 is still percolating along.
The U.S. grew at a solid 3% annual pace in third quarter despite damage from two hurricanes, according to Commerce Department data. That's above economist expectations of a 2.7% growth rate, according to a MarketWatch survey, and only slightly below the 3.1% growth rate in the second quarter.The last time the economy had two consecutive quarters of above-3% growth was in 2014.
Today's GDP report covers economic activity from July, August, and September. The 3% figure, which is quite good, will be revised twice more in the coming months.
As a political matter, it'll be interesting to see Donald Trump use this fresh data as part of the fight over proposed Republican tax cuts. From the president's perspective, current tax rates are stifling economic growth, which is a curious pitch given that economic growth looks quite healthy.
What's more, it's a near certainty that Trump will say that "many people thought it would be years before" we saw a 3% GDP report, but that's only because he refuses to understand the difference between quarterly and annual growth rates. (According to Trump, under Barack Obama's presidency, the economy never reached quarterly growth of 3.1%. And that's true, just so long as we overlook what happened in 2009, 2010, 2011, 2013, 2014, and 2015.)
As for the image above, the chart shows GDP numbers by quarter since the Great Recession began. The red columns show the economy under the Bush and Trump administration; the blue columns show the economy under the Obama administration.