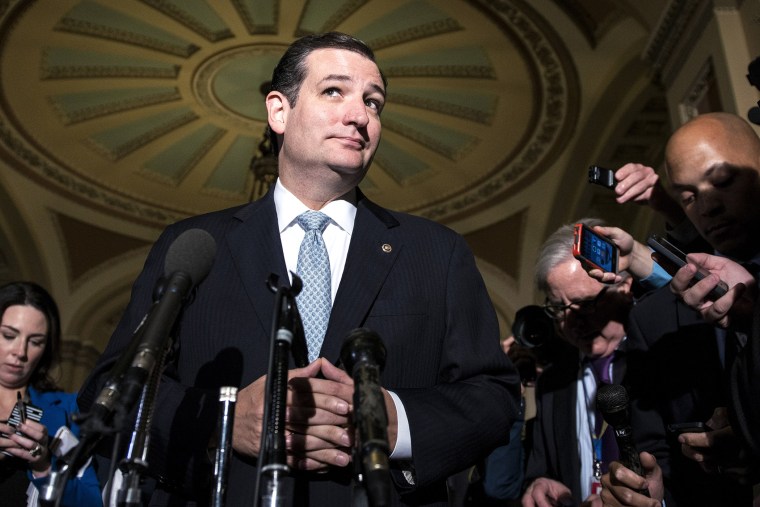 Last week, however,
Politico
reported
that Cruz had turned over a new leaf. The Texan has apparently made a point of being friendlier, and the result has been "thawing tensions between Cruz and his fellow GOP senators."
Yesterday, Ted Cruz returned to being Ted Cruz. Kasie Hunt had
this report
on the debt-ceiling fight in the upper chamber, which the Texas Republican made deliberately difficult.
Republican Sen. Ted Cruz of Texas is taking another pound of flesh from his own party's establishment -- and in particular, the leader of the GOP in the Senate. In a nail-biter of a vote Wednesday, Senate Minority Leader Mitch McConnell was a surprise "yes" vote for a bill to raise the debt limit without any additional provisions attached.
This could have been very simple. The House had already passed a clean debt-ceiling hike and every member of the Senate knew they would soon have to do the same. Democrats and Republicans could have reached a unanimous-consent agreement, approve the bill in seconds, and gone home.
Barring that, there could have also been a simple up-or-down vote. Every Republican could have voted "no," knowing that the must-pass bill would clear the Senate anyway.
But Cruz wanted a confrontation. He demanded that Democrats first break a GOP filibuster, knowing it would force some Republicans to break ranks and cast an awkward political vote.
In other words, Cruz made matters tougher on many of his ostensible Republican allies -- on purpose.
Ultimately, Senate Minority Leader Mitch McConnell (R-Ky.) and Senate Minority Whip John Cornyn (R-Texas), both of whom are facing primary challenges this year, found it necessary to walk the plank and end Cruz's obstructionism. Some of the talk afterward heralded their "leadership," though that's a bit of a stretch -- it's hard to cheer those who deliberately start a fire and then grudgingly agree to help put it out.
Regardless, Cruz knew he'd be putting his own party's leaders in a tough spot, but proceeded anyway, for no substantive or legislative reason.
Whether or not this will do real harm to McConnell and/or Cornyn is unclear. Both have supported clean debt-ceiling increases in the past -- remember, they were the bipartisan norm up until 2011 -- and their primary challengers are already able to feature these old votes in attack ads. For that matter, it's not at all clear how many voters are actually inclined to blame members for paying the nation's bills.
But both McConnell and Cornyn endorsed debt-ceiling hostage crises. Both McConnell and Cornyn chose to make debt-ceiling votes controversial. And both McConnell and Cornyn got burned when Ted Cruz decided to play with fire for petty, partisan reasons.
The new Cruz looks an awful lot like the old Cruz.