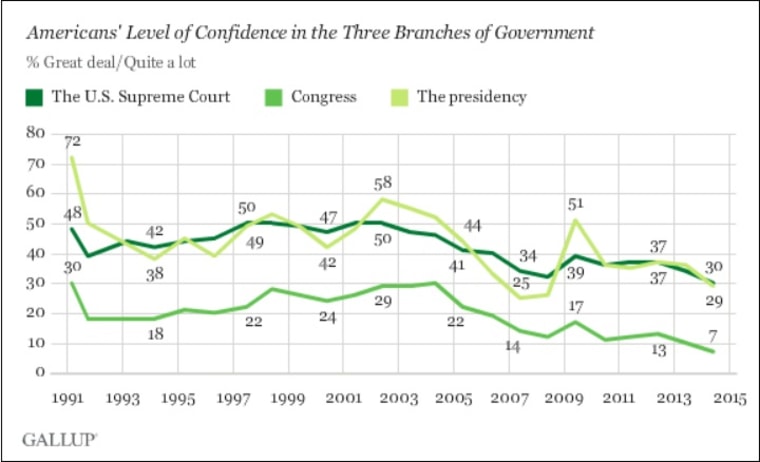 Americans' confidence in all three branches of the U.S. government has fallen, reaching record lows for the Supreme Court (30%) and Congress (7%), and a six-year low for the presidency (29%). [...] While Gallup recently reported a historically low rating of Congress, Americans have always had less confidence in Congress than in the other two branches of government. The Supreme Court and the presidency have alternated being the most trusted branch of government since 1991, the first year Gallup began asking regularly about all three branches. But on a relative basis, Americans' confidence in all three is eroding.
So, confidence in Congress has consistently been poor, but over the last few years, the bottom has fallen out, reaching just 7%. There are practically no American institutions, public or private, with so little public regard.
By comparison, the presidency and the Supreme Court are faring well, but that's only relative to Congress' ridiculous weakness.
Chris Cillizza
added
, "Today, no more than three in ten Americans have a great deal or quite a lot of confidence in any branch of government. Let that sink if for a minute. Numbers like these make clear that the 'things have always been bad' storyline misses the mark. It is absolutely true that Congress, especially, has never been a terribly confidence-inspiring institution. But the declining confidence in the Supreme Court and the presidency has combined to create a level of distrust with all levers of government that has never been seen before."
So, here's my question about the bigger picture: do conservatives find results like these encouraging?
In general, it's probably fair to say one of the broader goals of the conservative movement is to discourage public confidence in federal policymaking -- government is the problem, under this ideology, so the more Americans look askance at Washington institutions, the more the public will look to states, the private sector, and themselves as primary vehicles for change.
And with so much of the American mainstream now lacking confidence in the institutions themselves, at levels unseen in modern polling, does the right look at the above chart and think, "Mission accomplished"?