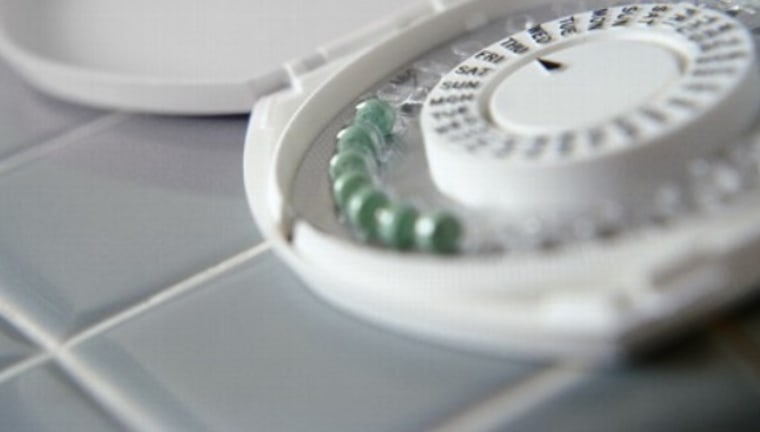 The D.C. Circuit Court has upheld a legal challenge to the provision of the Affordable Care Act (Obamacare) that mandates employer coverage of birth control, arguing that it "trammels" the expression of religious freedom. While the legal process over the issue isn't final, the decision hands a huge political victory to conservative activists that have long made this argument.
At issue is a lawsuit filed by the owners of an Ohio company named Freshway Foods. Brothers Phil and Frank Gilardi, who place anti-abortion messages on their delivery vehicles, are on board with providing health care coverage for their employees, but they oppose birth control and want to exclude contraception from the company's insurance package.
Because the Affordable Care Act treats birth control as basic preventive care, the Gilardi brothers reached out to TV preacher Pat Roberson's legal group, the American Center for Law and Justice, to file suit, which argued that the Gilardis' religious beliefs apply to their for-profit business.
The D.C. Circuit found the argument persuasive -- the Gilardi brothers can impose their religious beliefs on their employees through their private-sector business. It is, the court said, part of their First Amendment rights.
As the 3rd Circuit Court of Appeals explained over the summer in a related ruling, "[T]he law has long recognized the distinction between the owners of a corporation and the corporation itself. A holding to the contrary -- that a for-profit corporation can engage in religious exercise -- would eviscerate the fundamental principle that a corporation is a legally distinct entity from its owners."
Today, the D.C. Circuit said the exact opposite.
The controversy now appears slated for the U.S. Supreme Court, with two appellate benches (the D.C. Circuit and the 10th Circuit) ruling against the contraception policy and another (3rd Circuit) ruling in support of the policy.
But in the meantime, keep two additional angles in mind. First, if conservative opponents of birth control prevail, the implications will be sweeping. Not only will this put a whole new twist on corporate personhood, but a private business' owners would have the legal right to keep all kinds of health care -- vaccines, treatment of sexually transmitted diseases, psychiatric care, mammograms, etc. -- from their employees if the owners had a religious objection. That may sound insane, but it's exactly what several conservative judges have already concluded, including the D.C. Circuit this morning.
And second, when I complain incessantly about the importance of judicial nominee fights in the U.S. Senate, this is why.