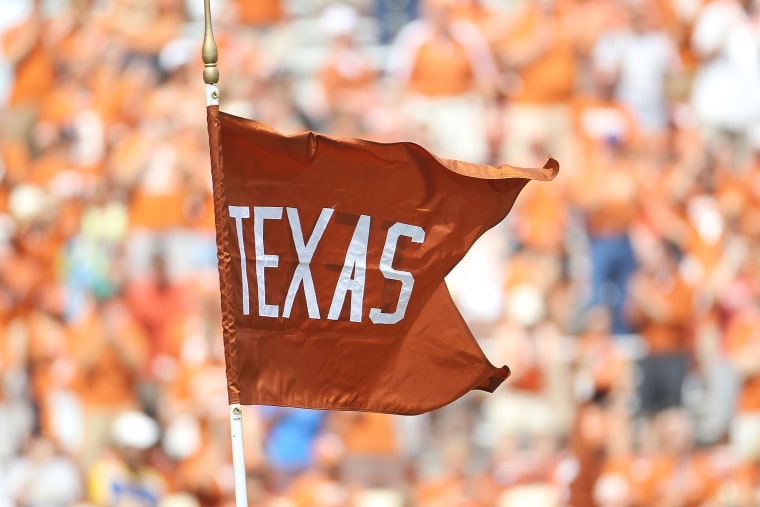 But today, the trend
reached
the largest of the nation's ruby-red states.
A federal judge in San Antonio ruled Wednesday that Texas' ban on same-sex marriage unconstitutionally deprives some citizens of due process and equal protection under the law by stigmatizing their relationships and treating them differently from opposite-sex couples. U.S. District Judge Orlando Garcia cited recent U.S. Supreme Court rulings as having trumped Texas' moves to ban gay marriage.
The entirety of the ruling is online
here
. Garcia, a 20-year veteran of the federal bench, was first nominated by President Clinton.
"Today's court decision is not made in defiance of the great people of Texas or the Texas Legislature, but in compliance with the U.S. Constitution and Supreme Court precedent," the judge wrote. "Without a rational relation to a legitimate governmental purpose, state-imposed inequality can find no refuge in our U.S. Constitution."
Does this mean marriage equality has come to Texas? Not quite yet.
Garcia concluded that the state ban on marriage equality is unconstitutional, but existing Texas law will remain in place as the appeals process gets underway.
At issue is an amendment to the Texas Constitution, approved by state voters in 2005, which passed in a
76%-to-24% landslide
.
Public attitudes have evolved quite a bit since 2005, but the one-sided results nevertheless suggest today's court ruling will not be a popular one.
And as a political matter, it's safe to say this will be a major issue in Texas elections this year -- state Attorney General Greg Abbott, the Republicans' gubernatorial candidate, will be responsible for appealing today's decision and defending the anti-gay amendment.