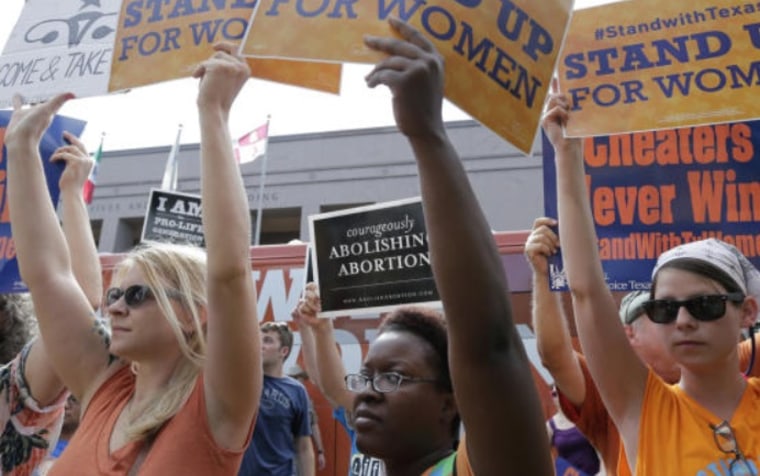 Last night, however, as Rachel
noted
on the show, the success in the courts was short lived. As my MSNBC colleague Irin Carmon
reported
 overnight:
A federal appeals court ruled late Thursday that Texas' abortion restrictions could immediately go into effect, overruling a Monday order from a lower court that found parts of the law unconstitutional. The decision may close the doors of one-third of Texas abortion clinics, many which will likely be unable to meet the requirement of hospital admitting privileges. Of course, that was the point of the law. "Today's decision affirms our right to protect both the unborn and the health of the women of Texas," said Governor Perry in a statement responding to the ruling. "We will continue doing everything we can to protect a culture of life in our state."
The ruling from the 5th Circuit Court of Appeals dealt in part with the question of "undue burdens," which the Supreme Court has said states cannot impose on women intending to terminate pregnancies. In this case, according to the appeals court, requiring women to travel several hundred miles -- each way -- to a health clinic is not, practically speaking, an "undue burden."
In light of the ruling, Texas's new measure, which included a ban on abortions after the 20th week of pregnancy and regulations intended to close most of the state's women's health clinics, will go into effect immediately. Appointments women had scheduled for this morning have been canceled.
Let's also note that the 5th Circuit's ruling was written by Judge Priscilla Owen, a Bush/Cheney appointee confirmed by a Republican Senate in 2005.
At the time
, Owen, a fierce opponent of abortion rights, was temporarily blocked by Senate Democrats who considered her far too radical for a lifetime appointment to a federal appellate bench. The GOP majority retaliated by threatening to use a tactic they came up with called the "nuclear option" -- yep, eight years ago, this was a Republican idea, and it was
going to be used
to get Priscilla Owen onto the 5th Circuit. (It turned out to be unnecessary when a bipartisan agreement was reached and Owen was confirmed.)
At the time, Senate Democrats pointed out that Owen was characterized by then-Attorney General Alberto Gonzales as being guilty of "an unconscionable act of judicial activism" in a reproductive-rights case during their tenure together on the Texas Supreme Court.
The editorial board of the Houston Chronicle has described Owen as "less interested in impartially interpreting the law than in pushing an agenda." Owen's hometown Austin American-Statesman has described her as "so conservative that she places herself out of the broad mainstream of jurisprudence," adding that she "seems all too willing to bend the law to fit her views, rather than the reverse."
We're occasionally reminded that fights over judicial nominees matter. Last night offered a refresher for those who may have forgotten.
Update
: The full ruling from the 5th Circuit is online
here
(pdf).