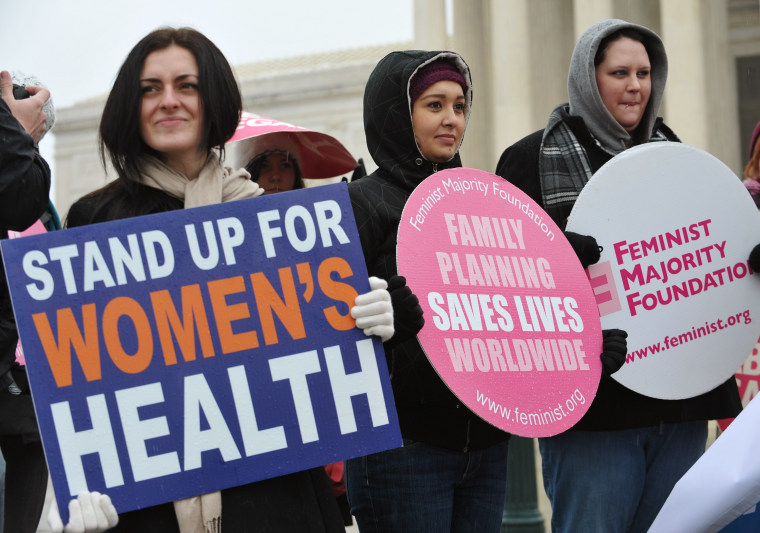 The abortion rate and the number of abortions has fallen 13%, with just 1.1 million abortions in 2011, according to a new study by the Guttmacher Institute. Just 16.9 per 1,000 women between the ages of 15 and 44 got an abortion in 2011. It's the lowest rate since the year the Supreme Court legalized abortion nationwide, 1973. Guttmacher has been periodically surveying abortion providers since the 1970s and surveyed four years for the current study, looking at abortion from 2008 to 2011.
The entirety of the 12-page Guttmacher Institute report is online
here
(pdf). Note that similar data for 2012 and 2013 is not yet available, so we can't say with confidence whether or not the trend is continuing.
Because the sharp drop in the abortion rate occurred after the 2010 midterms, when conservative lawmakers at the state level launched
an unprecedented campaign
to restrict women's access to abortion services, it may be tempting the plunge is directly related to new state policies. In other words, opponents of abortion rights were elected; they immediately got to work on new restrictions; and the drop in the abortion rate is proof their efforts succeeded in their intended goal.
But that's not what the researchers found. "With abortion rates falling in almost all states, our study did not find evidence that the national decline in abortions during this period was the result of new state abortion restrictions. We also found no evidence that the decline was linked to a drop in the number of abortion providers during this period," says Rachel Jones, lead author of the study.
In fact, in states with fewer abortion restrictions, the rate dropped just as much, if not more, than in states imposing new restrictions.
So what explains the sharp reduction?
Guttmacher Institute researchers pointed in part to the weak economic recovery, which drove the overall birth rate down, but also stressed access to contraception.
Jane Timm's
report
added, "[C]ontraceptives themselves may be lowering the rate of abortion, due to the availability of highly effective long-term contraceptive, like the IUD. During the four years of the study, long-term contraceptive use rose from 4 to 11%."
Given results like these, it's curious that so many conservative lawmakers have been so aggressive in trying to limit access to contraception, with support for litigation and legislation intended to empower religious employers to cut off employees' access to birth control.
If the goal is to reduce unwanted pregnancies and lower the abortion rate, it would seem the right would want more access to contraception, not less.