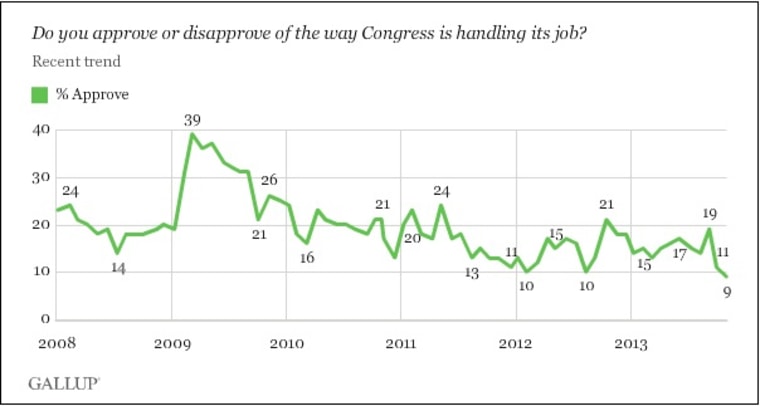 If congressional leaders hoped their institution's approval rating would improve after the shutdown crisis ended, the
new Gallup poll
will come as a bitter disappointment.
The newly released figures show Congress' approval rating dropping to just 9%. When was the last time Gallup showed congressional support this low? Never -- Gallup has been asking this question for about four decades, and approval has never slipped into single digits until now.
What's more, the results are strikingly consistent along party lines. From the Gallup report: "Public displeasure with Congress is equally rampant across political groups, with Republicans (9%), independents (8%), and Democrats (10%) giving the institution similarly low approval ratings."
Who says competing partisans can't agree on important questions?
For all the recent talk about President Obama's declining fortunes, it's worth noting that the president's approval rating is, no matter which pollster you consider reliable, at least quadruple that of the legislative branch.
What's more, also keep in mind how very easy it would be for congressional approval to see a significant bump: pass popular legislation that's currently awaiting action. If Congress passed immigration reform, a minimum wage increase, universal background checks, and a jobs bill, can you imagine what it would do to the body's approval rating?
As it stands, such productivity is extremely unlikely. The result is something that causes anxiety among political leaders in both parties: volatility. We're accustomed to Congress being unpopular; we're not accustomed to Congress being this unpopular. A 9% approval rating will invariably affect everything from voter turnout to fundraising, primaries to activism.
It's a challenge to make firm predictions about congressional elections when congressional approval sinks to levels without modern precedent.