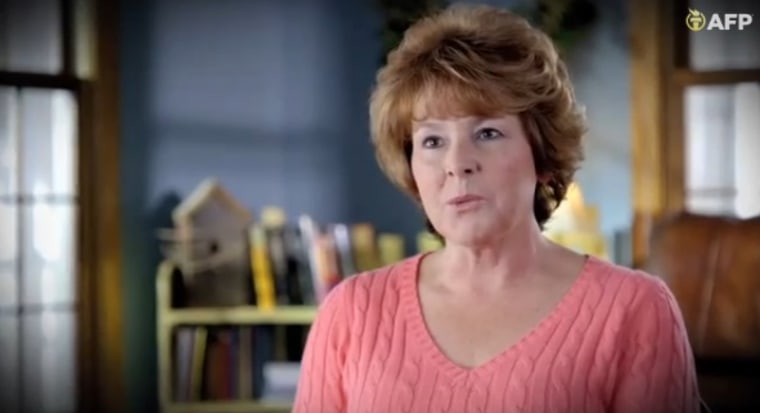 "I was diagnosed with leukemia. I found out I only have a 20 percent chance of surviving. I found this wonderful doctor and a great health care plan. I was doing fairly well fighting the cancer, fighting the leukemia, and then I received a letter. My insurance was canceled because of Obamacare. "Now, the out-of-pocket costs are so high, it's unaffordable. If I do not receive my medication, I will die. I believed the president. I believed I could keep my health insurance plan. I feel lied to. It's heartbreaking for me. Congressman Peters, your decision to vote Obamacare jeopardized my health."
But the claims in the attack ad are, like so many of its predecessors, problematic.
For example, in the ad, Boonstra says she found a "wonderful doctor" after her diagnosis. What the commercial doesn't mention is that Boonstra now has coverage under Blue Cross Blue Shield -- coverage that can't be taken away if her health deteriorates, and which there are no annual or lifetime caps -- in which she's still able to see the exact same physician.
In other words, when it comes to finances, under the worst case scenario, she'll break even, paying no more than she was paying before, all while seeing the same physician and enjoying coverage with stronger consumer protections than she had under her old plan.
Just to be clear, the point is not to criticize Boonstra or appear insensitive to the seriousness of her medical crisis. I can hardly imagine the anguish that comes with a diagnosis like the one she received, and I'm glad she has health insurance, she's receiving care, her premiums have been cut in half, and she has a doctor she trusts. Looking ahead, I'm also glad she won't have to worry in the future about insurers punishing or excluding her because of a pre-existing condition.
That said, her role in the latest AFP attack ad tells only part of a story, leaving Michigan residents with an incomplete version of reality.