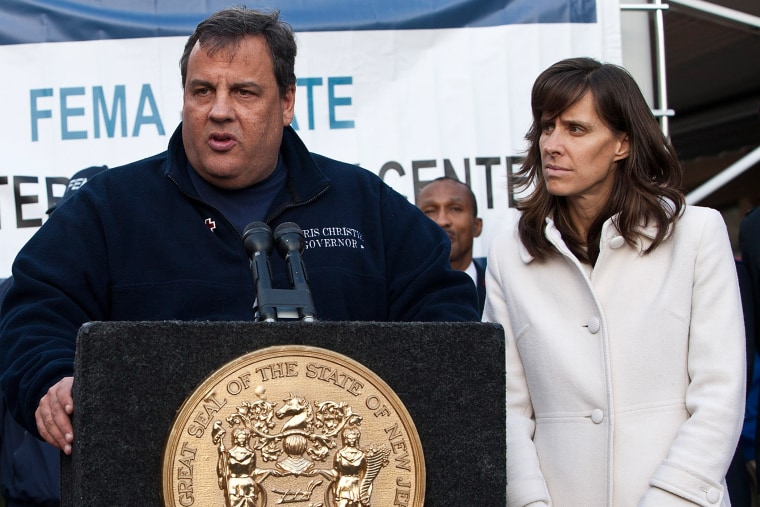 Hoboken Mayor Dawn Zimmer (D)
alleged
over the weekend that two top officials in the Christie administration, including Lt. Gov. Kim Guadagno (R), threatened post-Sandy relief funds unless the mayor approved a private land-development project in her city. As Rachel
noted
on the show last night,
Michael Isikoff reports
that FBI agents have questioning witnesses as part of an investigation into the matter.
Federal prosecutors and agents have also instructed key witnesses to preserve all documents and emails relating to the allegations by Hoboken Mayor Dawn Zimmer, these sources said. After Zimmer gave her account of the alleged threat to federal prosecutors on Sunday, federal agents questioned Dan Bryan, Zimmer's chief of staff, and Juan Melli, her communications director, the sources said. The two Zimmer aides are among at least five witnesses who Zimmer told the FBI could confirm that she had previously told them about the conversation she says she had with Lt. Gov. Kim Guadagno last May. Zimmer has alleged that during that conversation in a parking lot, the lieutenant  governor linked Sandy funding to backing of the development project.
This morning, the
New York Times
has a similar report, noting that federal authorities have already "
interviewed several witnesses
" in this matter.
The speed with which the investigation is proceeding is striking.
Note, Zimmer raised the allegations publicly for the first time on Saturday morning during an appearance on MSNBC's "Up with Steve Kornacki." Literally just one day later, the Hoboken mayor sat down
for several hours
with the U.S. Attorney's office, providing officials with her personal journal and related materials intended to bolster her claims.
That was Sunday. By Wednesday -- just four days after the allegations were first raised -- FBI agents had already interviewed "at least five witnesses," including the Democratic mayor's senior aides.
The Christie administration, which acknowledged misconduct in the bridge scandal, continues to insist that Zimmer's claims are false.
It's important to note that the FBI's interviews are not necessarily proof of anything other than interest in obtaining additional information. It's possible that the U.S. Attorney's office and FBI agents will conclude that there was no wrongdoing in this matter, or that there's insufficient evidence to pursue the case further. Sometimes federal law-enforcement investigations lead to criminal charges, but sometimes not. It's simply too soon to say what, if anything, will happen in this case.
That said, it's clear that federal prosecutors and agents are, at a minimum, taking the matter seriously. Indeed, the U.S. Attorney's office specifically asked Zimmer not to do any additional media interviews because the matter is under investigation.
Related video: