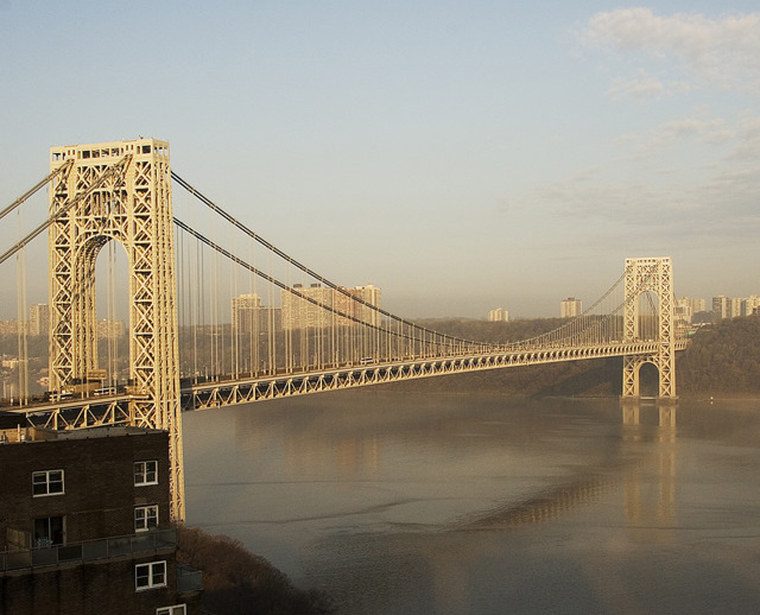 A Port Authority official with close ties to Gov. Chris Christie of New Jersey is resigning after state lawmakers questioned whether lane closings on the George Washington Bridge that led to extensive traffic backups in September were politically motivated. The official, David Wildstein, will resign as the director of interstate capital projects at the Port Authority of New York and New Jersey on Jan. 1, according to a letter he wrote to the agency's deputy executive director, Bill Baroni. The resignation was first reported by The Record newspaper, of northern New Jersey.
In Fort Lee, New Jersey, there are three lanes onto the George Washington Bridge, and in mid-September, Wildstein, a close Christie ally, closed two of them, causing several days of worse-than-usual gridlock. Local Democrats raised a question that seemed outrageous: did Christie's ally cause the traffic jam on purpose to punish Fort Lee's Democratic mayor, who balked at endorsing the governor's re-election?
Christie's office characterized the allegation as "crazy," which was my initial reaction, too. The governor was already cruising to an easy win, and his administration didn't have any incentive to seek retribution against anyone. Christie may be thin-skinned at times, and his most spirited backers can be overzealous, but the underlying accusation seemed to deserve little more than eye-rolling.
That said, the editorial board of the
Star-Ledger
, New Jersey's largest newspaper, published
a piece
that called for a broader investigation. Note, for example, that Wildstein, Christie's ally, said he closed the lanes as part of a "traffic study" that doesn't appear to exist and the Port Authority's own traffic engineers never heard of.
How do you study traffic and block lanes without notifying police, ambulance drivers or even your own bridge employees? The official "traffic study" excuse strains believability. Assemblyman John Wisniewski (D-Middlesex), who chairs the transportation committee, ordered [Port Authority executive director Patrick Foye] subpoenaed. More subpoenas should follow. At a minimum, [Port Authority deputy executive director Bill Baroni] and David Wildstein, the underling who ordered the Fort Lee blockade, should be ordered to Trenton, too -- and told to bring documents proving the study exists. By choking off Fort Lee's bridge access, these bureaucrats caused irresponsibly dangerous traffic jams. The catastrophe they risked heightens the demand for answers. After months of bluffs and deception, it's time for lawmakers to stop asking nicely. Subpoenas will send that message.
And late Friday, when political offices everywhere release bad news they hope will get less attention, Christie's ally resigned his post, saying the controversy has become "a distraction."
It still seems hard to believe anyone would cause massive traffic jams as part of a petty, partisan dispute, but the questions raised thus far haven't received reasonable answers. It's a story worth keeping an eye on.