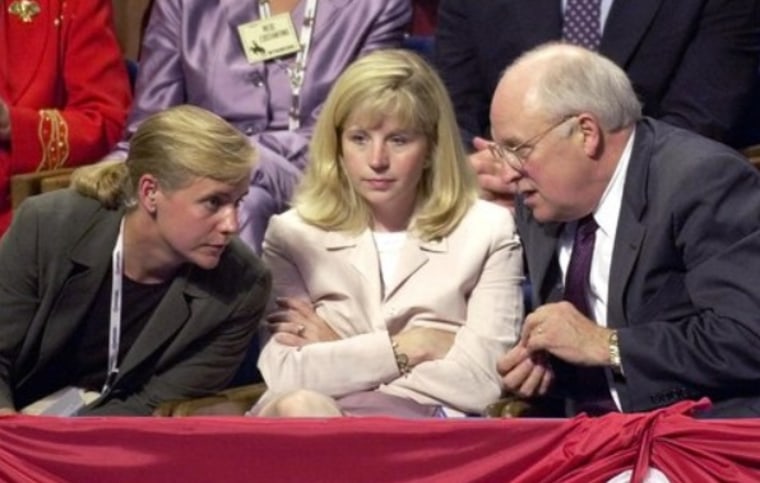 Yesterday, Liz Cheney appeared on "Fox News Sunday" and reiterated that her position has not changed. "I love Mary very much, I love her family very much," she said. "This is just an issue on which we disagree.... I believe in the traditional definition of marriage."
A very public family feud
unfolded
soon after.
After an appearance on Fox News Sunday in which Wyoming Senate candidate Liz Cheney said she and her married gay sister "just disagree" on the subject of marriage equality, Mary Cheney posted a sharp rebuke to her Facebook page.  "Liz -- this isn't just an issue on which we disagree, you're just wrong -- and on the wrong side of history," she wrote. Mary Cheney's wife, Heather Poe, also took to Facebook to sound off. "Liz has been a guest in our home, has spent time and shared holidays with our children, and when Mary and I got married in 2012 -- she didn't hesitate to tell us how happy she was for us. To have her say she doesn't support our right to marry is offensive to say the least."
One of the underlying issues here is not just Cheney's willingness to deny civil rights to her own sister, but also her sincerity. Does she oppose marriage equality because of a genuine policy position or because Cheney's afraid support for equal rights will cost her votes in a red-state Republican primary?
Indeed, it's worth noting that a right-wing operation called the American Principles Fund recently launched
attack ads
against Liz Cheney, accusing her of not opposing gay rights
enough
. What's more, Sen. Mike Enzi, the Republican incumbent Cheney is taking on in a primary, has internal polling showing him ahead by a whopping
52 points
, which makes it all the more difficult for Cheney to break with her far-right party's orthodoxy.
It's not unreasonable, then, to wonder whether her position is the result of political convenience or a sincere desire to deny basic rights to millions of Americans, including her own sister.
And while we may never know for sure, it's unlikely this "family values" controversy will do her campaign any favors. It's also going to make the upcoming holidays a little awkward -- the
New York Times
reported
that the whole Cheney family will gather in Jackson Hole for Christmas, but Mary Cheney said of her sister, "I will not be seeing her."