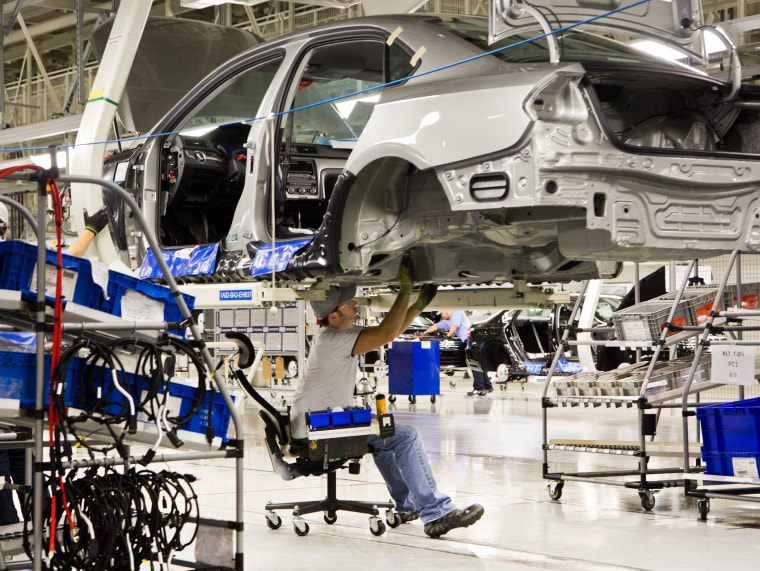 National Labor Relations Board expert Kenneth G. Dau-Schmidt, who is professor of labor at the University of Indiana-Bloomington,
told Reuters
before the results were announced that Corker's comments "would be grounds to set the election aside and have to run it all over again at a later date" because it could be ruled to be interfering to the point that it is against federal labor law.
We now know, of course, that the workers
narrowly rejected
unionization, but the United Auto Workers on Friday
asked
that the results be thrown out in light of "extraordinary interference" from GOP politicians.
The UAW alleges that Sen. Bob Corker (R-Tenn.) and other politicians interfered in the closely watched vote at a Volkswagen plant in Chattanooga, and is asking the National Labor Relations Board (NLRB) to order a new election. "It is extraordinary interference in the private decision of workers to have a U.S. senator, a governor and leaders of the state legislature threaten the company with the denial of economic incentives and workers with a loss of product. We're committed to standing with the Volkswagen workers to ensure that their right to have a fair vote without coercion and interference is protected," UAW President Bob King said. The union said their appeal filings, also known as objections, "detail a coordinated and widely publicized coercive campaign conducted by politicians and outside organizations to deprive Volkswagen workers of their federally protected right to join a union."
In a rather remarkable display, Corker issued a statement saying he's "disappointed" by the challenge, adding, "I have to assume that today's action may slow down Volkswagen's final discussions on the new SUV line."
In other words, with an imminent announcement from VW, Corker is hedging his bets -- if the automaker doesn't award the Chattanooga plant a new line, the senator will blame the United Auto Workers.
As for why the right fought so hard to crush unionization at this Tennessee plant, there can be no doubt about the importance of partisan politics. Steven Greenhouse published
an interesting item
over the weekend on the results in Wisconsin after Gov. Scott Walker's (R) union-busting campaign a few years ago.
He gets no satisfaction from being right. Since the law was passed, membership in his union, which represents state employees, has fallen 60 percent; its annual budget has plunged to $2 million from $6 million. Mr. Walker's landmark law -- called Act 10 -- severely restricted the power of public-employee unions to bargain collectively, and that provision, among others, has given social workers, prison guards, nurses and other public employees little reason to pay dues to a union that can no longer do much for them. Members of Mr. Beil's group, the Wisconsin State Employees' Union, complain that their take-home pay has fallen more than 10 percent in recent years, a sign of the union's greatly diminished power. "It's had a devastating effect on our union," Mr. Beil, its executive director, said of Act 10. He was sitting in his Madison office, inside the headquarters that his union, hard up for cash, may be forced to sell. The building is underused anyway, as staff reductions have left many offices empty.*
For Walker, this was a feature, not a bug. The governor now goes into a re-election fight facing "the renewed opposition of labor," which is drastically weakened thanks to the policy Walker created.