The Commonwealth of Virginia offers dozens of specialty license plates, including one that benefits the Virginia League for Planned Parenthood. Karen Bohn writes from Spotsylvania that she bought one of those recently. "Wonder if Gov. McDonnell knows it exists," Karen says. I'll bet he does now.
Across the bottom, the Planned Parenthood plate reads "Trust Women. Respect Choice," with no mention of state-mandated, medically unnecessary transvaginal ultrasounds. Virginia will, however, let you personalize your plate, with a few restrictions. Plates may not be "profane, obscene or vulgar," nor "sexually explicit or graphic," nor may they talk about ladyparts or man ones, nor may they be "socially" offensive. I'm not sure what that last part means, but the rules seem to leave plenty of room for creativity.
Using the personalized plate generator, Rachel came up with the one above, for example: "UR NO DR." 
Our pal Ali Davis, co-creator of the Bob McDonnell commemorative vaginal ultrasound probes, came up with about 50, of which I personally favor "CONSENT."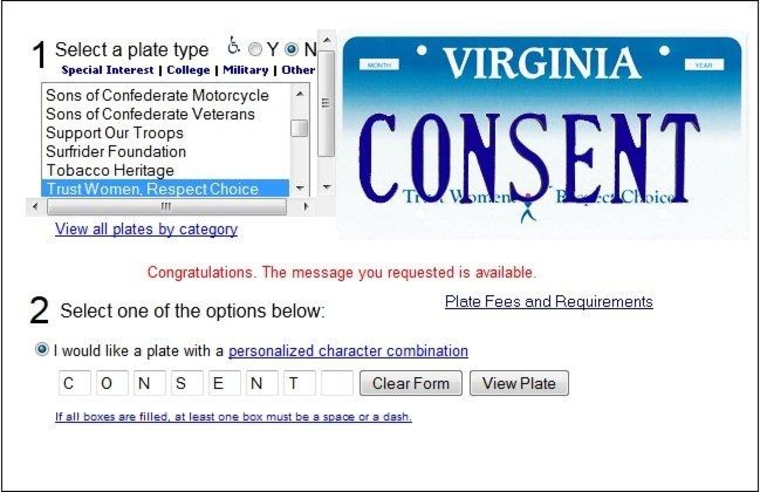 Producer Eelin Reily found that our old headline "OMGYN" fit just fine.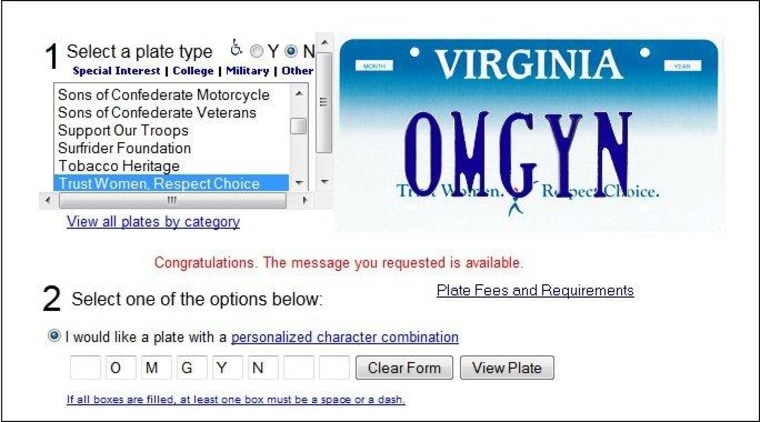 If you try this out, send a screen grab showing that your suggested plate was accepted. We'll post the ones we love.