About a month ago, Ted Cruz was campaigning in Iowa, where a voter asked the Texas senator about the Supreme Court.
Former Pennsylvania Sen. Rick Santorum has said, "The stakes are too high and the issue too important to simply cede the will of the people to five unaccountable justices." Former Arkansas Gov. Mike Huckabee has long complained of politicians who would "allow black-robed and unelected judges the power to make law as well as enforce it." For Republicans running for president, the Supreme Court itself is essentially on the ballot. Democrats? Not so much. [...] Democrats have shown little of the intensity or emphasis shown by the Republicans. That isn't lost on the liberal activists who are focused on the judiciary and outraged by many of the Supreme Court's recent decisions.
But it's not unreasonable to think Democrats have good reasons to focus on the court with the same zeal as their Republican counterparts.
Let's turn again to this chart I put together in May.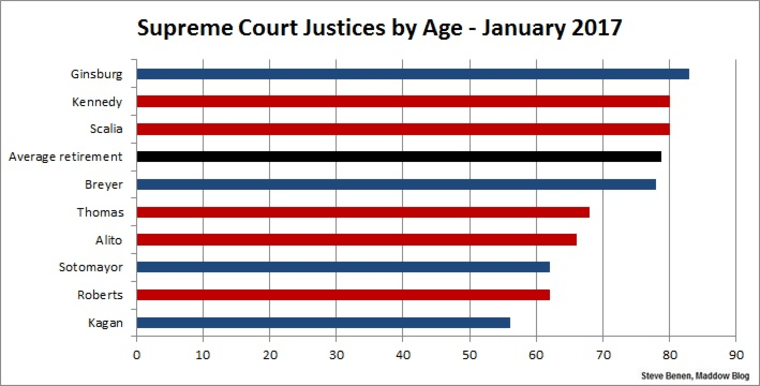 The day the next president takes office, three sitting justices will already be well past this average, while a fourth will be very close behind. (Justice Stephen Breyer will be 78.2 years old on the next Inauguration Day.)
Given the circumstances, it's hard not to notice the fact that the next president will have an extraordinary opportunity to shape the court's future and quite possibly much of American public life for a generation.