The political world is far better at focusing on a burgeoning crisis than following through on the resolution. There was a time last year, for example, when everyone was convinced the IRS "scandal" was a massive controversy comparable to Watergate. But when facts emerged and the allegations proved baseless, most lost interest and neglected to tell the public the "scandal" was bogus.
The Department of Homeland Security released new figures on the number of apprehensions along the Southwest border Monday and the numbers continue to plummet, for both unaccompanied children and adults with children. "In July the numbers of unaccompanied children were about half of what they were in June," DHS Secretary Jeh Johnson said in a statement. "August was even lower -- lower than August 2013 and the lowest since February 2013."
Consider a chart I put together based on the Homeland Security data: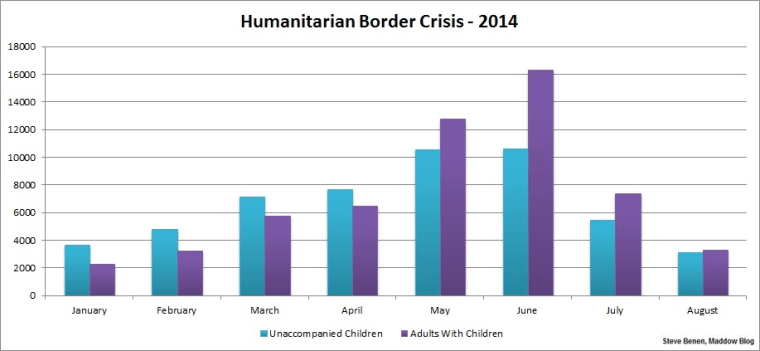 And third, let's not forget what the White House's critics on the right had to say during the debate on this crisis. Many Republicans insisted the way -- indeed, the only way -- to address the problem was to start deporting Dream Act kids and deploying National Guard troops. Even at the time, the GOP policy prescription was ridiculous, but it's even clearer now that conditions have improved considerably after ignoring conservative demands.
There's still a problem in need of attention here, and while the tallies have obviously dropped sharply, they're not zero. Policymakers should work responsibly to address this.