Louisiana Gov. Bobby Jindal (R) had a plan. As recently as a month ago, the struggling Republican presidential hopeful told the
Washington Post
he would "
win Iowa
," at which point the race would "change" and many of his GOP rivals would "drop out."
Louisiana Gov. Bobby Jindal announced late Tuesday he would suspend his presidential campaign after failing to get traction in the crowded Republican primary field. In a statement announcing his exit from the race, Jindal said running has "been an honor, but this is not my time."
Jindal is the third Republican to drop out of the race before voting began, joining Wisconsin Gov. Scott Walker and former Texas Gov. Rick Perry. Jindal's departure shrinks the GOP field to a mere 14 candidates.
Ordinarily when a candidate withdraws, there's some chatter about where his or her support may go, but in the case of the Louisiana governor, there's no real point. National polling showed the governor with support
below 1%
and Jindal struggled for months to raise money.
Why did the Louisianan struggle to connect? It's rarely just one thing that dooms a candidate, though in Jindal's case, it probably didn't help that he's been an
awful
and woefully
unpopular
governor.
But I suspect that wasn't the principal problem for the governor. Consider the bigger picture as it relates to experienced candidates trying to appeal to the rabid GOP base.
On paper, Jindal was a uniquely well qualified presidential candidate. Indeed, few White House hopefuls in recent memory, especially among Republicans, have brought such an impressive resume to the table: he has experience at the state and federal level, from the legislative and executive branches. Few national candidates can accurately boast about a background of writing bills and signing then into law.
It's quite likely, however, that Jindal's qualifications contributed to his troubles. A couple of months ago, I
put together
this chart showing the years of experience in government for the original field of 17 Republican presidential candidates (before anyone had dropped out). I've updated it this morning with arrows pointing to the candidates who've quit.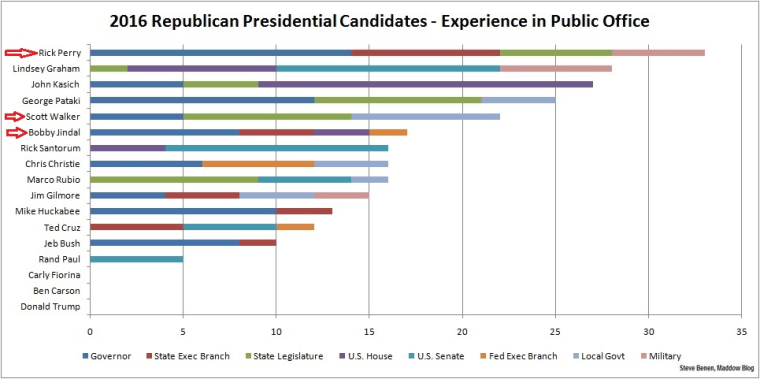 This probably isn't a coincidence. Walker, Perry, and Jindal -- all governors -- were among the most experienced candidates in a year in which many Republican voters aren't impressed with qualifications for national office.
Indeed, note that Lindsey Graham and George Pataki are also near the top of the list when it comes to experience, and they're doing so poorly that they couldn't even qualify for the most recent kids-table debate.
Jindal thought his impressive c.v. would, if nothing else, draw serious consideration from his party. Given the prevailing political winds, he never stood a chance.