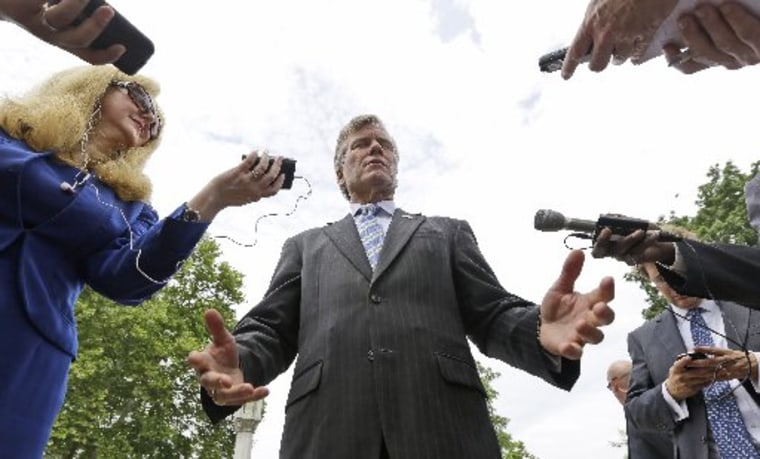 The Virginia Republican, sometimes called "Governor Ultrasound," has now been out of office for 10 days, and as the
Washington Post
's Rosalind Helderman, Carol Leonnig, and Sari Horwitz
report today
, prosecutors are done waiting.
Former Virginia Gov. Robert F. McDonnell and his wife Maureen were charged in federal court Tuesday with illegally accepting gifts, luxury vacations and large loans from a wealthy Richmond-area businessman who sought special treatment from state government. The two were charged in connection with their relationship with dietary supplement executive Jonnie R. Williams Sr.
The
Huffington Post
published a copy of the indictment itself online
here
(pdf).
It appears federal prosecutors reached a very different conclusion.
For those who need a refresher, the list of "gifts" the former governor and his wife received isn't short, but is rather jaw-dropping. I'll just quote Rachel's segment on this from mid-December:
"For basically his whole last year in office, Governor McDonnell has been dealing with this scandal. First ignoring it, then trying to laugh it off, then eventually apologizing for it, and then saying he hoped it would be over soon. The accusations center around the governor and his family taking a really quite impressive pile of cash and prizes from a wealthy Virginia businessman, a businessman whose company, the governor and his wife, had a financial stake in. "The governor is alleged to have promised and provided special treatment to that businessman in exchange for a whole lot of really nice stuff: more than $165,000 in loans and gifts. A lakefront home vacation, thousands of dollars of trips on a private jet, Bob McDonnell got to drive the CEO's white Ferrari. Bob McDonnell got a gold Rolex engrave '71st governor of Virginia.' "There was a New York City shopping spree, including a $10,000 Oscar Dela Renta suede jacket, a Louis Vuitton handbag, two pairs of designer shoes and a nice designer dress for the first lady. There was a $10,000 catered chicken dinner for the governor's daughter's wedding, $7,000 worth of golf equipment, and golf games for the governor and the boys. And lots, lots more, including multiple five-figure checks, made out to various McDonnells, under various auspices, all from the same businessman. "All in all, we know of at least $165,000 in cash and prices that the governor and his family took from this one wealthy Virginia businessman, just during the one term that Bob McDonnell has been governor."
In the not-too-distant past, Bob McDonnell, a graduate of TV preacher Pat Robertson's college, saw himself as a likely candidate for national office. Indeed, in advance of the 2012 cycle, the Virginia Republican made no effort to hide his interest in seeking his party's vice presidential nomination, no matter who the presidential nominee was.
As of this afternoon, however, McDonnell's political career is not only in ruins, he's also facing the criminal charges he desperately hoped to avoid.
We'll have much more on this on tonight's show.
Video: