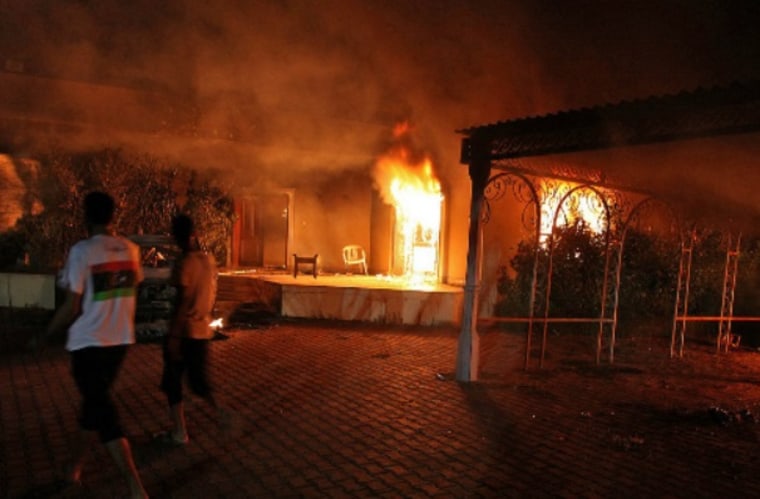 The "60 Minutes" report, apparently a full year in the making, included one element that seemed entirely new. Viewers heard from a witness, who used the pseudonym Morgan Jones, who said he was there during the attack, scaled a 12-foot wall, beat an al Qaeda fighter with the butt of his rifle, and personally saw Ambassador Chris Stevens' body.
Obviously, that's quite a dramatic tale, and this man's perspective was arguably the single most important new information in the "60 Minutes" segment. It matters a great deal, then, that the "witness" may not have actually been there. The
Washington Post
's
Karen DeYoung reports
.
[I]n a written account that Jones, whose real name was confirmed as Dylan Davies by several officials who worked with him in Benghazi, provided to his employer three days after the attack, he told a different story of his experiences that night. In Davies's 2 1/ 2-page incident report to Blue Mountain, the Britain-based contractor hired by the State Department to handle perimeter security at the compound, he wrote that he spent most of that night at his Benghazi beach-side villa.
Well, that's certainly not what "60 Minutes" said.
Davies has not explained the discrepancy -- he's reportedly "not well" and has been hospitalized, so he didn't respond to DeYoung's questions -- though it's worth noting that Jones is promoting a new book about the attack in Benghazi, which is being published by a company related to CBS and his story is part of a pending
movie deal
.
Under the circumstances, Media Matters' David Brock has called on CBS
to retract
its "60 Minutes" story.
If recent history is any guide, this will not affect Benghazi conspiracy theorists in the slightest.