Massachusetts is home to one of the nation's most competitive gubernatorial races, though the latest
Boston Globe
poll
, which is getting all kinds of attention, suggests it may not be that competitive after all.
Republican Charlie Baker has opened up a 9-point lead over Democrat Martha Coakley, 45 percent to 36 percent, according to a new Globe poll that depicts a far more comfortable advantage than either candidate for governor has enjoyed in months. [...] "There is just positive movement in every single metric we can ask around Baker," said pollster John Della Volpe, chief executive of SocialSphere Inc., which conducts the weekly poll for the Globe. "The more voters have gotten to know him, the stronger he performs."
To be sure, a nine-point lead this close to Election Day suggests the Democratic gubernatorial candidate is in real trouble.
But I've been watching the Boston Globe's polling, and there's something about the results that gives me pause. I put together this chart, showing the results from just this pollster since June: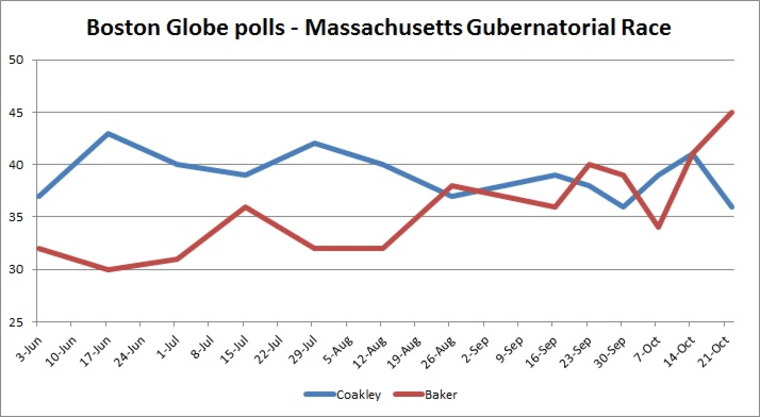 Those are some pretty significant swings in both directions over a fairly short period of time. The candidates have swapped sizable leads six times in three months? Coakley went from +5 to -9 over the course of two weeks?
I'm not saying the figures are necessarily wrong, but these significant swings back and forth, in the midst of a race with no major scandals or triumphs for either candidate, gives us reason to approach this poll with some skepticism.
All things considered, Baker is arguably the favorite at this point. But the noisy results from the Boston Globe's polling serves as a reminder: polling averages offer a more reliable gauge, and right now, the averages suggest the Republican is up by a few points.