A key provision of the Affordable Care Act that was designed to keep insurers from overspending on administrative costs or else be forced to rebate premiums to customers looks to be succeeding in not only reducing those costs but in lowering premiums. A new report from federal health officials, which concludes that health spending had grown at a historically slow rate in 2013, says the so-called MLR provision is helping drive the broader easing of spending growth in the industry.
This has led to plenty of American consumers receiving unexpected checks in the mail, but as the TPM report makes clear, the 80/20 ratio is also having a positive impact system-wide.
All of which adds up to a simple truth: Gruber may be political catnip, but as a substantive matter, "Obamacare" is enjoying one success after another. Indeed, it's probably time for a new T-chart: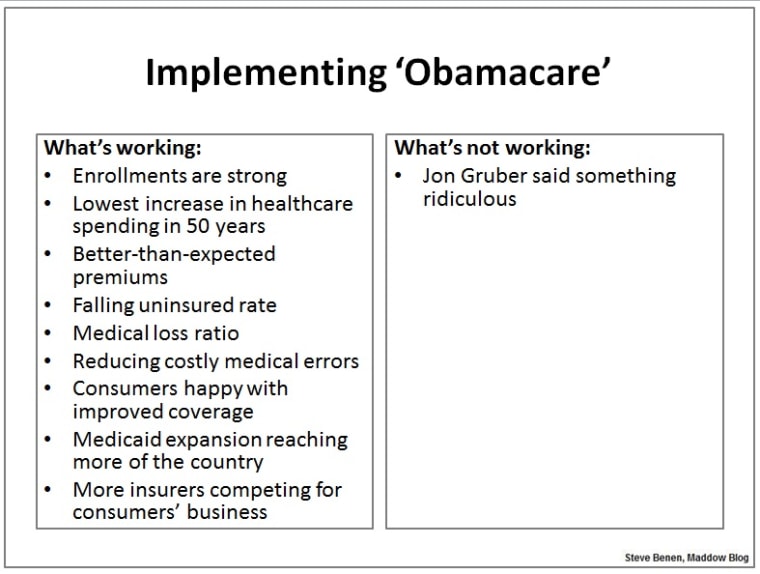 There's no denying that the politics of health care remain a mess. Gruber has become an obsession; Sen. Chuck Schumer (D-N.Y.) is needlessly criticizing the effort to pass health care reform in the first place; Republicans on the Supreme Court may yet destroy the system for no reason; and polls show much of the country still opposes the law, even if clear majorities support what's in the law.
But looking past politics and focusing on the real-world effects of the law paints a pretty encouraging picture for ACA proponents. The system is actually working better at this point than even many optimists had predicted.