Brett Kavanaugh was already an unusually unpopular Supreme Court nominee. As Rachel noted on the show last night, this week's developments have made Donald Trump's choice for the high court even more controversial.
More American voters now oppose Brett Kavanaugh's Supreme Court nomination than support it after he was accused of committing sexual assault while he was in high school, with opposition increasing 9 points since last month, according to a new national NBC News/Wall Street Journal poll.Kavanaugh has categorically denied the accusation, which delayed his scheduled confirmation vote before the Senate Judiciary Committee, and which has roiled American politics less than seven weeks before the 2018 midterm elections.In the poll -- which was conducted Sunday (when the accusation from Christine Blasey Ford was first made public) through Wednesday -- 38 percent of voters say they oppose Kavanaugh's nomination to serve on the nation's highest court, including 27 percent who "strongly" oppose him.
It's the first time any NBC News poll has found a Supreme Court nominee "underwater" -- opponents of confirmation outnumber supporters.
This calls for a chart: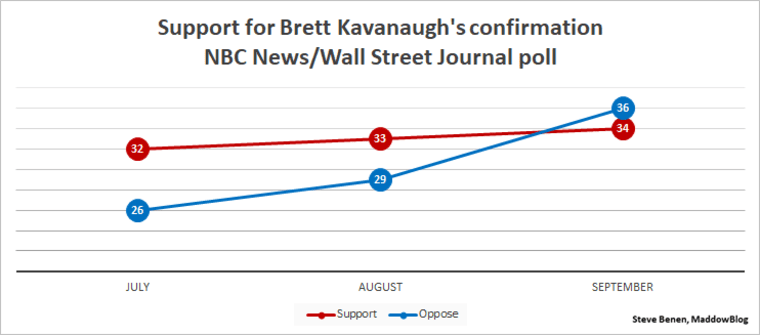 As we discussed a couple of weeks ago, we can probably explain some of Kavanaugh's unpopularity by way of Trump's unpopularity: the more the president supports his nominee, the more Americans opposed to this president will reject anything that has to do with him.
It's also likely that much of the American mainstream is concerned about the expected consequences of Kavanaugh's term on the court -- including, among other things, the demise of the Roe v. Wade precedent.
But it's that trend line that stands out. These explanations shed light on why Kavanaugh faced public skepticism from the outset, but the fact that opposition to his confirmation has grown suggests the public has grown more skeptical as they've learned more about the conservative jurist.
As for whether public attitudes will matter or not, it certainly won't hurt. Senators who find themselves on the fence about Kavanaugh might consider, at a minimum, Americans' concerns.
The better question, however, is just how many senators genuinely may find themselves on the fence.