CBS News recently conducted a national poll asking Americans if they approve of the way Donald Trump is handling race issues. It wasn't close: 63% of the country disapproves.
Perhaps the only surprise is that the total wasn't higher. Even if we put aside Trump having championed a racist conspiracy theory before launching his political career, and even if we briefly overlook his racist antics during his 2016 campaign, the Republican's record on the issue since becoming president has been tough to defend.
It was against this backdrop that "Face the Nation" host Margaret Brennan asked Trump for his reaction to the network's poll during an interview that aired yesterday.
TRUMP: What has happened is very interesting. The economy is so good right now. You saw the jobs report just came out. Three hundred and four thousand added jobs, which is a shocker, for the month. A shocker to a lot of people. They thought it was going to be half that number. The African Americans have the best employment numbers in the history of our country.... So I think I've been given a lot of credit for that. And in terms of race, a lot of people are saying, "Well, this is something very special what's happening."BRENNAN: So -- because when colleagues of yours, even like Republican Senator Tim Scott. He said Donald Trump is not racist. But he said you're racially insensitive.TRUMP: I have a great relationship with Tim and certainly with his state, South Carolina, and -- where we do very well. And I think if you look at the numbers for African-American unemployment, best numbers they've had -- literally the best numbers they've had in history. And I think they like me a lot and I like them a lot.
Why the president referred to African Americans as "the African Americans" wasn't altogether clear.
Regardless, there were a couple of problems with the exchange, starting with the disconnect between the question and the answer.
Note that the "Face the Nation" host specifically asked for his reaction to Americans' opposition to his handling of race issues. Trump responded by pointing to the unemployment rate. Reminded that even one of his allies described him as racially insensitive, Trump responded by ... again pointing to the unemployment rate.
It's as if, in the president's mind, low unemployment is necessarily evidence of sound leadership on race -- which isn't just wrong, it also reflects the perspective of someone who hasn't given the issue nearly enough thought.
Complicating matters, Trump is taking credit for the continuation of a trend that began long before he took office. Some history is in order: at the height of the Great Recession, black unemployment reached a brutal 16.8%. In May 2018, it fell to 5.9%, which is the lowest on record.
But the unemployment rate began improving in Barack Obama's first term, not Donald Trump's. The Republican has an unfortunate habit of being born on third base and thinking he hit a triple, and this offers a classic example of the phenomenon. I put together this chart, using data from the Bureau of Labor Statistics, to help drive the point home.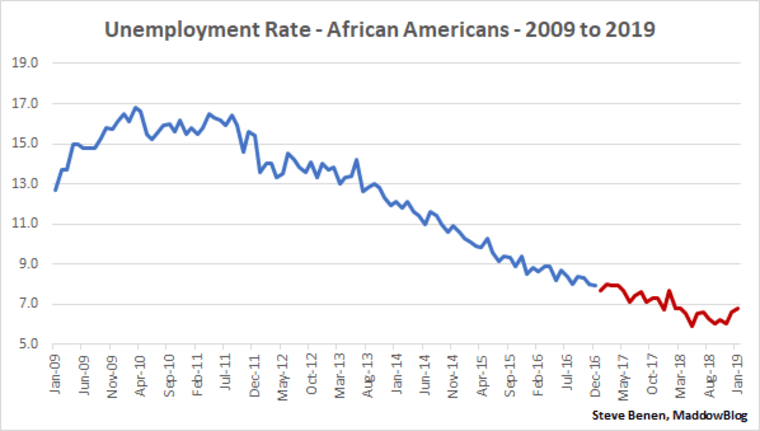 As for Trump's assertion that African Americans like him "a lot," the latest Quinnipiac poll found him with a 2% approval rating among black voters. No, that's not a typo.
The president may believe African Americans are giving him "a lot of credit" for an unemployment rate that started improving years before he took office, but there's quite a bit of evidence to the contrary.