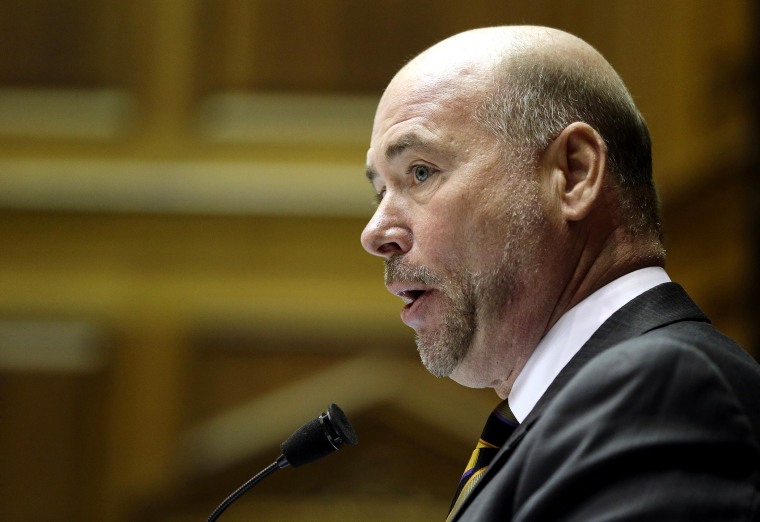 But what about the GOP's opposition to gay rights, a staple of the conservative movement for years? Anti-gay animus remains common on the right, though it doesn't seem to be a front-burner issue the way abortion is. (Much of this is because the fight has shifted to courts after the success of conservative efforts during the Bush/Cheney era.)
That said, while marriage equality makes strides from coast to coast, and states continue to expand civil rights for same-sex couples, there are exceptions.
Indiana Gov. Mike Pence (R), for example,
recently used
his State of the State address to urge lawmakers to approve a constitutional amendment banning marriage equality. The proposal didn't seem to be going anywhere, though as Amanda Terkel
reported
, that changed this week.
With a proposed state constitutional ban on same-sex marriage on life support, Indiana House Speaker Brian Bosma (R) suddenly gave it new life Tuesday, moving the legislation from the skeptical committee that was reviewing it to a friendlier, more conservative panel that is likely to vote it through to the full chamber.  "I responded to the overwhelming majority of the Republican caucus who have extensively lobbied me to bring this to the floor in one fashion or another," Bosma told the Indianapolis Star.
At issue is a bill called HJR-3, which seems entirely unnecessary. Indiana already prohibits marriage equality in state law, but HJR-3 intends to make it extra, super-duper clear that Indiana bans equal marriage rights by changing the state constitution.
The proposal was floundering in the state House Judiciary Committee, where it generated bipartisan opposition, so yesterday, Republican leaders started playing procedural games to rescue it, moving it to another committee where it would enjoy more support.
After two hearings, eight hours of testimony and a controversial committee switch, a proposed same-sex marriage ban is headed to the Indiana House floor as early as Monday.All nine Republicans on the House Elections Committee voted in favor of the proposed constitutional amendment Wednesday night, while three Democrats were against the move.
If it passes the Republican-led state House, HJR-3 would go to the Republican-led state Senate, and ultimately, to the electorate of Indiana in a statewide vote.
Remember, all of this effort is intended to block same-sex couples from getting married in Indiana, despite existing law that already blocks same-sex couples from getting married in Indiana.
Republicans may be focusing much of their culture-war fire on reproductive freedoms, but they clearly haven't forgotten about gay rights just yet.