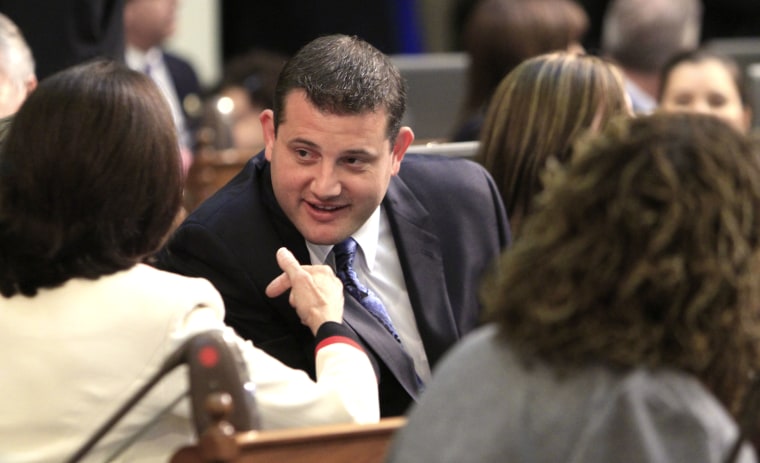 His announcement doesn't come as too big a surprise -- Valadao is a vulnerable GOP incumbent with a sizable Latino population in his district -- but it adds to the perception that immigration reform really does have a pulse in the House. Indeed, as the number of House Republicans endorsing the Democratic bill inches up ever so slowly, a "
business-conservative alliance
" is moving forward with a "lobbying blitz" in the lower chamber.
But for every piece of evidence suggesting reform is still possible, there's equally weighty evidence that the far-right GOP House caucus
simply won't tolerate
success.
Rep. Michael McCaul (R-Texas) said Wednesday he wouldn't meet with President Obama to discuss immigration reform because he feared it would be a trap. "I was invited to the White House yesterday and I refused to meet with the president because I saw it as a political trap," the chairman of the House Homeland Security Committee told radio host Laura Ingraham. "I am not pushing for immigration reform, I've been against amnesty my entire career," he continued. "I'm simply interested in getting the security piece done."
McCaul is not some random back-bencher -- he's the chairman of a powerful committee; he's a regular on the Sunday shows; and he's an influential voice in his party on immigration. And of yesterday, he won't even talk to the president and
refuses to consider
a compromise between the Senate and House efforts on the issue.
"I told [House Speaker John] Boehner, 'We need to make it very clear that we're not going to conference with the Senate on this,'" McCaul told Ingraham. "We're not going to conference with the Senate, period."
What a constructive attitude.
Greg Sargent
said something
the other day that resonated with me: "[R]eform won't happen if House Republican leaders are not willing, at some point in the process, to get Steve King really, really mad. The final outcome doesn't have to be up to Steve King. It will be decided by the basic question of whether GOP leaders -- and mainstream House Republicans -- calculate that doing something about the party's terrible relations with Latinos are worth the cost of getting the base angry, and that it matters that only 20 percent think the GOP is interested in doing what's best for the country."
The point, of course, isn't just about Steve King -- the anti-immigrant Iowan is one of several House Republicans eager to kill immigration reform -- but rather, that GOP leaders are going to make someone angry. If they let the right destroy the opportunity, Boehner & Co. will disappoint Republican moderates, private-sector leaders, the religious community, and party strategists urging the GOP to be smarter about the issue. If they seize the opportunity, Boehner & Co. will disappoint far-right extremists.
The Speaker and his team will have to make a choice fairly soon as to who'll walk away unhappy.