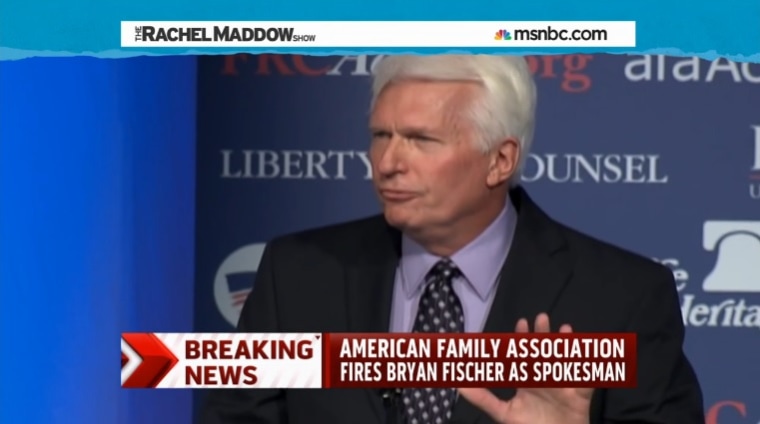 But going forward, Fischer will no longer make ugly and ridiculous comments in his capacity as a spokesperson for the AFA. Rachel
reported on the show
last night that the AFA has fired Bryan Fischer from his post:
"Fischer has been their director of issue analysis, the director of issue analysis for the American Family Association forever. He's basically quoted everywhere for years now as the organization's spokesman. [...] "The president of the American Family Association telling us tonight, that as of today, Bryan Fischer should no longer be described as the director of issue analysis for that group, he should not be quoted as a spokesman for the group. As of today, the American Family Association tells us that Bryan Fischer is, and I quote, 'just a talk show host.'"
When "The Rachel Maddow Show" asked AFA President Don Wildmon what prompted Fischer's ouster, Wildmon specifically referenced Fischer's bizarre assertions connecting Nazis and homosexuality. Fischer, of course, originally made these remarks years ago, and has repeated related comments in the years since, but talking to us last night, Wildmon now says, "We reject that."
The timing of this unexpected shakeup is probably not a coincidence: the American Family Association, despite years of right-wing extremism, is partnering with Reince Priebus and members of the Republican National Committee on
a trip to Israel
, which created an awkward dynamic. Why would the RNC team up with a group whose spokesperson says things like, "Counterfeit religions, alternative religions of Christianity have no right to the free exercise of religion"?
Nearly 100 RNC members are scheduled to participate in the AFA-sponsored Israel trip, which begins this weekend. It's against this backdrop that, all of a sudden, Fischer is no longer the religious right group's spokesperson.
Since our broadcast last night, Mediaite
reported
at 11:11 p.m. (ET), "For the sake of clarification, Fischer has been fired as a spokesperson and director of issues analysis, but is still a radio show host for the AFA."
Around the same time, Fischer himself
said
on Twitter that his right-wing radio show will air today in its usual timeslot and on the same station.
We'll have more on this as the story unfolds, but it seems at this point that the American Family Association has indeed fired Fischer as a spokesperson for the organization, but will keep him on as the host of an AFA-backed radio program. When AFA President Don Wildmon described Fisher as "just a talk show host," the unstated subtext may have been "just our talk show host."