Michelle Obama's surprise appearance at Sunday night's Academy Awards  has set off many on the right, criticizing her for supposedly crashing or forcing herself on the event.
The Washington Post's Jennifer Rubin wrote a scathing review of the first lady's appearance, complaining about nearly every word she said, and claiming she must have felt "entitled" to "intrude" on the big Hollywood night. In her eyes, an appearance like last night's "makes both the president and the first lady seem small and grasping. In this case, it was just downright weird."
Rush Limbaugh attacked the first lady on his Monday radio show too, calling her appearance "unneeded" and "out of place" and insisting that Hollywood had to "throw her a crumb" because Lincoln lost (President Obama's "semi-autobiography" according to Rush-logic.) He compared the giant screen to the Apple 1984 ad, saying Michelle looked like the "dear leader" of our "totalitarian state."
The National Review put together their round-up of the various responses "mocking" the first lady. The Drudge Report called her a party crasher in his banner headline. The Breitbart team complained she hijacked the Oscars.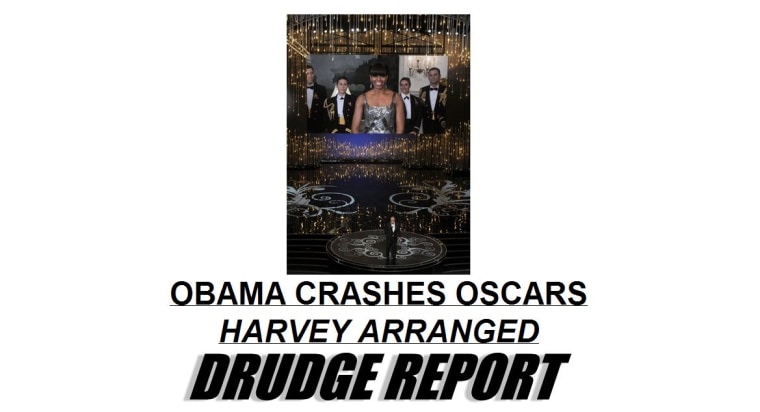 Of course, the idea that she intruded upon or crashed the event doesn't hold up to scrutiny. In fact, she was asked to, in a plan that came from Harvey Weinstein and his daughter. When it was pitched to her, the first lady happily agreed. "I think it's a great idea. We watch movies all the time at the White House. Let's do it," she apparently said.
When asked in interviews last week if she had any Oscar viewing plans, Obama said she wouldn't be able to watch because she and President Obama would be hosting the nation's governors at their annual dinner. She joked once that she might try to catch the end of the show, perhaps a subtle hint of her surprise appearance.
Michelle Obama is also far from the only inhabitant of the White House to drop in for a surprise Oscar visit. The tradition began with Franklin Roosevelt, who kicked off the 1941 Oscars ceremony via radio. More recently, beloved Republicans Ronald Reagan and even George W. Bush appeared in taped appearances, in 1981 and 2002, respectively.
The vitriol against the first lady comes at a time when she's more beloved than ever before. The "Evolution of Mom Dancing" video clip from the Late Show with Jimmy Fallon has gone viral since it aired on Friday night, picking up more than 4 million views. Her favorability ratings in recent polls are sky high, with four times as many respondents giving her the thumbs up than the thumbs down.
Democratic strategist Karen Finney thinks the conservative media is suffering from jealousy. "She has got some moves, and look how good she looked in that dress," she said on PoliticsNation Monday. "Every first lady and president, there have been things that they've done that have been firsts, and so this is a first to have a first lady announce a winner but it's not the first time a first lady has appeared in the Oscars," she said, referring to Laura Bush's appearance in a taped segment that ran during the 2002 Oscars.
Finney thinks the attacks are part of the "on-going narrative" of attacks on the first family. "President Obama and First Lady Michelle Obama do not get the same level of respect than previous presidents and first ladies."
Sirius XM radio Joe Madison thinks the right needs to get over their problems  "Michelle Obama is not Nancy Reagan, she's not Jacqueline Kennedy," he said. "She has established a new standard for first ladies and people on the right you might as well get used to it."
"She's cool, she's funny, she's smart, she's everything that we in our community, we've always known 'Michelle Obama''s and maybe that's part of the problem," he added.
Whatever the right-wing has to say about her, it seems clear they're in the minority. (Although the Iranian press had a problem too: they denied Michelle's right to bare arms, altering her image to add a higher neckline and sleeves to her Oscar dress.)