Rep. Paul Ryan has joined the chorus of Republicans complaining about President Obama's vow to use executive power in order to advance his agenda in the face of GOP opposition, accusing the president of being "increasingly lawless." 
In fact, Obama ranks last among all presidents since 1900 in number of exective orders issued. But Ryan, appearing on ABC's This Week, insisted the "scope" and not the number was the problem.
"It's the scope of the executive orders," Ryan said. "It's the fact that he's actually contradicting law, like in the health care case, or proposing new laws without going through Congress, George, that's the issue. So this is why [there's] concern we have an increasingly lawless presidency, where he is actually doing the job of Congress, writing new policies and laws without going through Congress."
Asked whether he thought Obama deserved to be impeached, Ryan toned things down a bit. 
"We have a difference of opinion, clearly, and some of these are going to get fought out in court," he said. "You have some court challenges with respect to religious freedom going to the court this spring. But I am concerned about this trend, such as what he said at the State of the Union, that if Congress doesn't give me the law I want, I'm going to go do it myself. That's effectively what he said."
During the State of the Union last week, Obama couched his intended executive orders as back-up measures to be used in conjunction with congressionally-backed legislative measures. 
"[W]hat I offer tonight is a set of concrete, practical proposals to speed up growth, strengthen the middle class, and build new ladders of opportunity into the middle class," he said. "Some require congressional action, and I'm eager to work with all of you.  But America does not stand still–and neither will I.  So wherever and whenever I can take steps without legislation to expand opportunity for more American families, that's what I'm going to do."
The president pushed back against his critics in an interview late last week.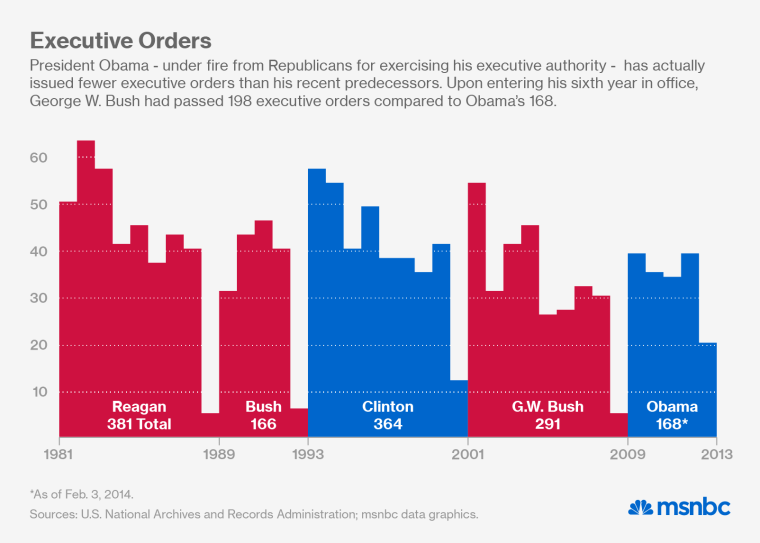 "We make sure that we're doing it within the authority that we have under statute," Obama said Thursday. "But I am not going to make an apology for saying that if I can help middle-class families and folks who are working hard to try to get in the middle class do a little bit better, then I'm going to do it."
For some on the left, Obama has actually been far too reluctant to use of executive actions. Both immigration and LGBT activists have bristled at his unwillingness to use the power of the pen to help fix injustices where he can. 
"In the absence of congressional action, an executive order that prohibits discrimination by contractors is a tailor-made solution to the president's expressed aims," Fred Sainz, vice president of Human Rights Campaign, told the Associated Press last week.