A tweet from an relatively unknown PR executive set the internet ablaze with indignation this weekend with twelve words, but it may ultimately have a positive impact. 
"Going to Africa. Hope I don't get AIDS. Just kidding. I'm white!" Justine Sacco's tweet read, sent shortly before she boarded a flight to South Africa on Friday. While she flew, the internet erupted. Most commentators accused her of racism or tastelessness for being so cavalier about a crisis that has plagued the continent for years, while a handful came to her defense, arguing that the joke may have been a poorly executed attempt to make fun of white privilege.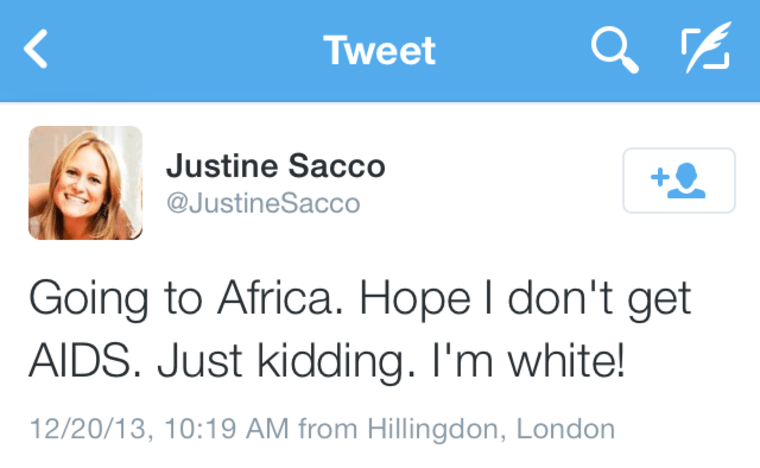 By Saturday afternoon, she had been let go from her job as communications director for InterActiveCorp, a conglomerate that runs dozens of internet media properties including about.com, match.com, the Daily Beast, and BlackPeopleMeet.com. 
"There is no excuse for the hateful statements that have been made and we condemn them unequivocally," IAC said in a statement announcing her departure. "We hope, however, that time and action, and the forgiving human spirit, will not result in the wholesale condemnation of an individual who we have otherwise known to be a decent person at core."
But by that juncture, someone had decided to turn the negative moment into a positive, trying to focus the outrage towards the cause. An anonymous figure registered Sacco's name as a URL, and redirected justinesacco.com to AidforAfrica.org, an alliance of U.S-based Africa-focused charities that target a number of issues from water access to health, including AIDS. 
"We have certainly benefitted," said Barbara Rose, Executive Director of the group. She tells msnbc that redirect from the URL and subsequent Twitter attention boosted donations, helping the group rake in donations over the weekend many times what it would normally receive.The group doesn't know who set up the site, which was registered anonymously, but she and her colleagues are thankful for the attention and support, and happy to use it to further the many causes they serve. 
"Sacco's tweet speaks to a lack of understanding about Africa and AIDS and reinforces an uninformed tendency to link AIDS and Africa whenever one or the other is mentioned," Rose said in a statement on the Aid for Africa website.
"It's really an unfortunate situation that at least allowed us to get the word out about what's happening in Africa," Rose told msnbc, in response to Sacco's tweet. She also noted that the organization has seen attention from a wide range of supporters, including Donald Trump, whom she hopes will donate. 
Sacco issued a follow up statement Monday, saying she was "ashamed" of her insensitivity. 
"Words can not express how sorry I am, and how necessary it is for me to apologize to the people of South Africa, who I have offended due to a needless and careless tweet," she said. "There is an AIDS crisis taking place in this country, that we read about in America, but do not live with or face on a continuous basis."
"Unfortunately, it is terribly easy to be cavalier about an epidemic that one has never witnessed firsthand," she continued. "For being insensitive to this crisis - which does not discriminate by race, gender or sexual orientation, but which terrifies us all uniformly - and to the millions of people living with the virus, I am ashamed."