When Sharon Lavigne was a little girl in rural Louisiana, she remembers the air being as fresh and sweet as the sugarcane her daddy grew on the family's farm. They lived off the land, fished and raised cows, hogs and chickens. The kids would play outside for hours. And Lavigne remembers feeling a deep connection to the soil beneath her naked toes and the air that would swell in her lungs on days she'd chase softballs into the long-setting sun.
"It was the American dream," she said. "It was so wonderful. Everything was nice. The air was clean, the water was clean. We could drink water from the hydrant."
Lavigne's family has lived in St. James Parish, Louisiana, for four generations. Now 67, she still lives on 22-acres of her family's land. But these days she said the air she breathes sometimes burns her lungs. The ground is often covered in a mysterious soot or ash.
For more on this story, subscribe to Into America, a new podcast from NBC News and MSNBC.
St. James Parish is a nearly majority black parish of about 21,000 people. It sits halfway between New Orleans and Baton Rouge — along an 85-mile stretch that is home to more than 200 chemical plants and refineries. Even before the coronavirus arrived, there was so much sickness and death in that corridor of southeastern Louisiana that it's been given the nickname Cancer Alley. And more recently, Death Alley.
If Lavigne's grandchildren spend too much time playing outside they develop a rash, she said. Over the years, many of her neighbors, family and friends have moved or faded away. Too many to count. Cancer mostly. The landscape has changed, too.
Many of the old family farms have been replaced with petrochemical plants and refineries and other behemoths of industry — DuPont, Mosaic Fertilizer, Nucor, NuStar, OxyChem, Plains Pipeline, Shell and others. Look out along the horizon and you see smoke stacks where trees once stood tall. The factories have pushed so far into residential communities that chemical storage tanks have sprouted behind churches, many neighbors share fence lines with facilities, not families, and some homeowners have found themselves jammed between chemical plants on nearly all sides.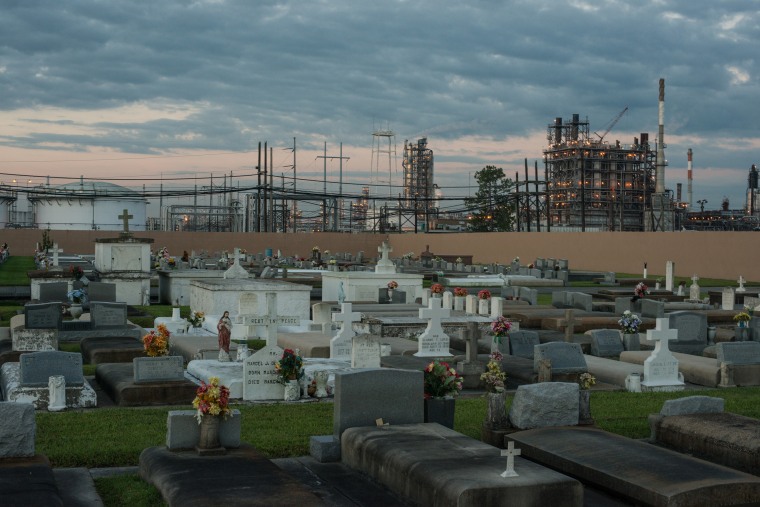 Lavigne, who was diagnosed with auto-immune hepatitis in 2016 and lives next to chemical companies, eventually saw what she believed to be the cause of all the sickness and death — the air and water.
"I have to go outside and breathe this air. It hurts. I'm telling you, it hurts so bad," Lavigne told NBC News for the "Into America" podcast. "I pray every day, every night."
And now the coronavirus that causes COVID-19 has exacerbated the dire state of health in St. James and nearby St. John the Baptist parishes, which are among the 20 U.S. counties with the highest per-capita death rates from the coronavirus. Lavigne said that friends and neighbors, many already suffering with health issues, have fallen gravely ill or died from the virus.
That's been the case in other environmentally compromised black communities across the country, where the virus appears to have seized upon America's deeply ingrained social and racial inequities to infect black people with greater frequency and lethality than whites. Health and science experts say layers of pre-existing conditions — like hypertension, and heart and respiratory diseases — often brought on by negative environmental factors like air pollution, have made black people more susceptible to catching and dying from COVID-19, the disease caused by the coronavirus.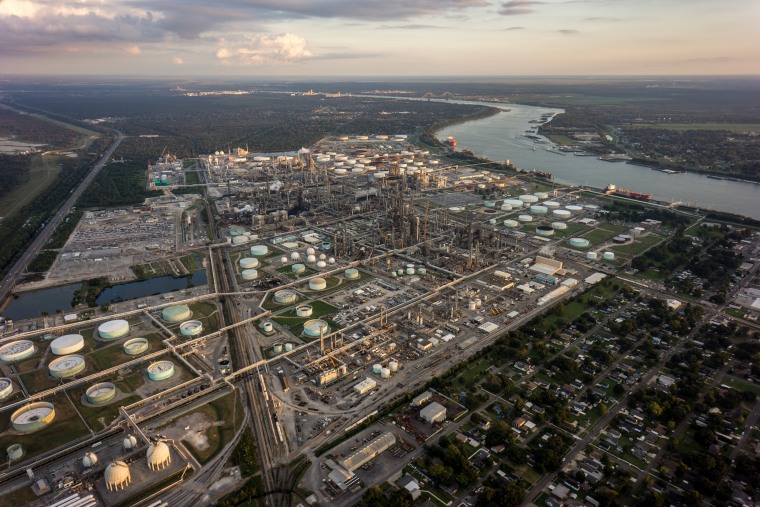 This month, Harvard released a preliminary study that suggests long-term exposure to air pollution is connected to the most severe COVID-19 symptoms and higher mortality rates from the disease. A long history of segregation and mistreatment has made African Americans more likely than whites to live in unhealthy neighborhoods, where air and soil quality are worse. Even middle-class blacks are more likely than poor whites to live in these kinds of more toxic environments.
"When you talk about having communities that are similarly situated with all the chemicals being pumped out, not having access to good quality health care, high concentration of people who are uninsured, then you have lots of underlying conditions that make it ripe for a heat-seeking missile like COVID-19," said Dr. Robert Bullard, a professor of urban planning and environmental policy at Texas Southern University. Bullard, widely considered "the father of environmental justice," has spent decades researching the links between the environment and race.
"So when we talk about who's most likely to be the most vulnerable, you can actually predict where the deaths are going to be," Bullard said.
City by city and state by state, the disparities are glaring. In New York City, blacks are dying from COVID-19 at twice the rate of their white counterparts. In Chicago, African Americans make up just 30 percent of the population but 70 percent of the deaths from the disease. In Wisconsin, they represent 6 percent of the population, but nearly 40 percent of those fatalities. In nearby Michigan, it's 14 percent of the population and 40 percent of known coronavirus deaths.
Black Louisianans in Lavigne's region have been hit especially hard by the pandemic. African Americans represent 56 percent of the state's COVID-19 deaths — much more than the 32 percent of the population they represent.
"It's not random. It's not isolated. It's not coincidental. The singular root is racism and the continued operation of disparities based on race and based on place," Bullard said. "Air pollution and pollution in general is segregated, and so is America."
Chemicals emitted from nearby plants — things like ethylene oxide and benzene — are known carcinogens. And seven of the 10 census tracts with the highest cancer risk in the nation are found in Cancer Alley, according to data from the Environmental Protection Agency.
In St. James Parish alone, there are over 30 petrochemical plants. While the population is pretty evenly split — 49 percent black, 49 percent white — the plants are largely concentrated in the Fifth District of the parish, where Lavigne lives. The Fifth District is more than 80 percent black.
When the first petrochemical plants started popping up in St. James Parish in the 1960s, Lavigne said people were excited about the prospect of good jobs. But as more plants started moving in, the prospects of black folks getting lots of those jobs seemed to vanish. White landowners began selling off their land to big corporations. In the decades that followed, sickness started to set in.
Lavigne and her neighbors have decided to fight back. In 2018 she formed a group called RISE St. James to push back against the expansion of big industry in their community. They do research, stage protests and have sued to stop construction of yet another petrochemical company facility in the parish.
"The industry is killing us now. On top of that, coronavirus keeps killing us. So we have a double whammy," Lavigne said. "This is heartbreaking, and I don't want to leave, I want to stay right here. This is my home."