Last week, TV personality Phil McGraw (better known as Dr. Phil) announced that after 21 years of peddling advice as "America's shrink," he will be ending his daytime TV show to pursue "new ventures." This announcement prompted sadness from his fans — and "good riddance" from his many critics. 
A statement released by CBS Media Ventures explained that "McGraw will focus on prime-time programming and plans to announce a strategic prime-time partnership, scheduled for an early 2024 launch, which will expand his reach and increase his impact on television and viewers."
This announcement prompted sadness from his fans — and "good riddance" from his many critics.
"I am compelled to engage with a broader audience because I have grave concerns for the American family," McGraw said in that same statement, "and I am determined to help restore a clarity of purpose as well as our core values."
For Dr. Phil detractors, of whom I count myself one, this statement raised some red flags. Since at least 2016, this country has been grappling with the dangerous fallout of elevating reality TV stars to unprecedented heights and bestowing them unearned authority (see former Senate nominee Mehmet Oz and former president Donald Trump). What we absolutely do not need is a Dr. Phil cinematic universe, a bigger platform for him to peddle useless weight-loss plans, ridicule insecure teenage girls and mothers, or broadcast the misery of addicts, live, into millions of households.
The controversial (nonmedical) "doctor"— he does hold a doctorate in clinical psychology but stopped renewing his license to practice psychology in 2006, and has never held a California license, where his show is filmed — began his television tenure because of Oprah Winfrey. In 1995, Winfrey hired McGraw's legal consulting firm after she was sued for libel by Texan cattle ranchers. (She later won the suit.) In 1998, Winfrey began bringing McGraw onto "The Oprah Winfrey Show" as a guest expert, to discuss topics like marriage and parenting.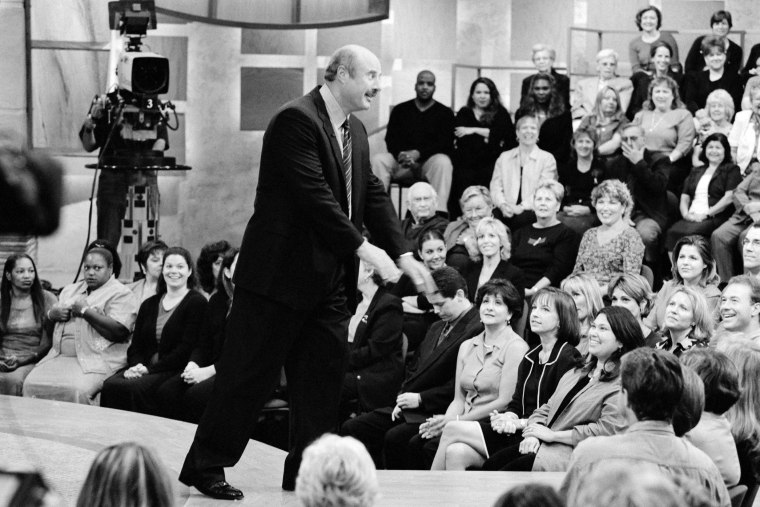 McGraw was a hit, a Regular Guy with folksy charm who told it straight. And with hindsight, it's not hard to understand why. Dr. Phil became a household name around the same time as George W. Bush was pitching himself to national voters as a folksy, Southern-accented, regular dude. And America loves a rich, connected white man who displays the superficial markers of a less rich, less powerful, less connected white man. Phil McGraw understood the assignment. 
By 2002, Winfrey was producing a standalone show for McGraw: "Dr. Phil." And it took off almost immediately.
As Buzzfeed's Scaachi Koul argued in a sharp 2020 deep dive into McGraw's on-screen evolution, when the "Dr. Phil" show started, it was predominantly "normal-ass advice for normal-ass people," but it soon morphed into what Koul terms "Schadenfreude Television" — basically Jerry Springer "freak show" reality-style entertainment, but with the facade of authority. Take, for example, the teen who went on the show to claim she was pregnant with Jesus. Or the teacher he brought on to defend her relationship with a student. Or the segment in which McGraw forces a husband to tell his wife he's acted in adult films. (Koul also points out that the "Dr. Phil" show shared some staffers with "The Jerry Springer Show.")
McGraw has faced criticism for years, but nothing managed to truly undercut his influence. He paraded guests with histories of trauma and  alcoholism in front of his studio audiences. He has been accused of exploiting the mental health issues of famous people, like Britney Spears and Shelley Duvall. He endorsed (and was sued over) weight-loss plans investigated by the Federal Trade Commission for false advertising. His own employees have reported "toxic" work conditions. He referred young, vulnerable guests like Bhad Bhabie (Danielle Bregoli, also known as the "Cash me outside" girl) to controversial troubled-teen facility the Turn-About Ranch.
"I'm really not sure why Dr. Phil still sends kids here, it really doesn't make sense," said Bregoli in a 2021 YouTube video. "Are you trying to help them or hurt them even more? We all know he's a phony as it is but don't be sending kids somewhere just to make it look like you're trying to do something."
When asked about Bregoli's comments by journalist Ashleigh Banfield, McGraw simply passed the buck. "We don't have anything to do with what happens with guests once they leave the stage," he said, despite the fact that Bregoli claims that her mother signed  a consent form to "send progress reports directly from Turn-About to the 'Dr. Phil' show."
This type of "entertainment" is especially lucrative, and dangerous.
In a country where gaining access to good mental and physical health care without going bankrupt is woefully difficult, this type of "entertainment"  is especially lucrative, and dangerous. The reason "Dr. Phil" has been so successful is the same reason that the McGraw-created spin-off, "The Doctors," has found success, and the same reason that suspect mental health advice has flourished on Instagram and TikTok. Americans lacking proper health care or a social safety net are looking to fill the gaps on their own.
According to Forbes, McGraw brought in $65.5 million in 2020 alone. With that kind of money on the line, why would he ever stop? Maybe he won't.
If the end of "Dr. Phil" on daytime television just means a pivot to more of the same on a different platform, there is real cause for concern. Dr. Phil may be the quack provocateur America deserves, but he's certainly not who we need.