Police in Columbus, Ohio, are rolling out a new cruiser this month to "celebrate the achievements of African Americans & recognize their roles in our history." It's a crude attempt at improving the image of police at a time when the country is reeling from shock from yet another awful spectacle of officers killing a Black American.
The Columbus Division of Police's Twitter account announced the new police car Wednesday evening in a post that included a video of an SUV adorned with the license plate "History 1" and a painted "Black History Month" logo. One of the rear windows displays a quote from Martin Luther King, Jr.: "Be the peace you wish to see in the world." Optimistic music plays in the background and we hear excerpts from — you guessed it — King's "I have a dream" speech.
Recognizing Black History Month is generally a fine idea, and it makes sense that a police department that has a fraught relationship with its Black community would choose to do so. But in light of the massive gulf between reform efforts and the ongoing reality of problematic policing in Columbus and across the country, it comes across as tone-deaf. Using racial justice symbolism begins to look less like a badge of commitment to reform and more like a shallow substitute for it. 
I suspect the sight of the cruiser won't make Columbus residents forget that in August Columbus police, while executing a search warrant, killed a Black man, Donovan Lewis, who was in bed. Nor will their seeing an MLK quote on a cop car erase their memory of the death of Andre Hill, whose family received a $10 million settlement from Columbus after a police officer shot him four times as he left a friend's house in 2020. And nods to Black History month are unlikely to ease ongoing tensions over the pending trial of a former Franklin County sheriff's deputy who, while working as a deputy, shot Casey Goodson Jr. five times in the back in Columbus and has been charged with Goodson's murder.
As The Washington Post notes using numbers from its Mapping Police Violence database, Black people in Ohio are more than 4 times more likely to be killed by the police than white people — which is even more disproportionate than the national disparity. Ohio lawmakers failed to pass even a modest set of policing reforms last year.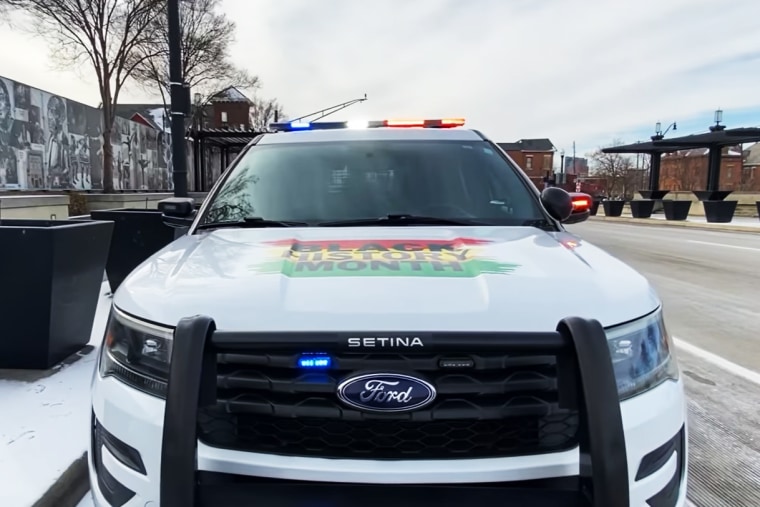 Policing in Ohio, like everywhere around the country, requires more radical reappraisals of what allows police killings — and a general norm of police intimidation — to occur with such regularity. It requires, among other things, changing the police's broad legal immunity for wrongdoing, using unarmed police or alternative law enforcement officials to carry many more police duties, and investing more in addressing the root causes that give rise to social inequality, segregation and crime.
Unfortunately in our political era, it's increasingly common to see institutions make a show of embracing the rhetoric of social change while taking few meaningful steps to actually fulfill those principles. The Twitter video didn't play an important line in King's speech: "We can never be satisfied as long as the Negro is the victim of the unspeakable horrors of police brutality." Given the prevailing status quo, that may have been a more fitting MLK quote to place atop a police cruiser.