Today on "NOW" our panel discussed how both sides of the political arena can be prone to jumping to conclusions, without necessarily knowing all the facts.
This seems especially true in the Twitterverse.
Karl Rove's super PAC, American Crossroads, tweeted this morning about a series of traffic accidents involving Commerce Secretary John Bryson this weekend in California. 
 Here's the tweet that went out at 8:02 ET this morning:
---
ABC News reported that American Crossroads posted two other tweets:
@AmericanXRoads: @BarackObama response to @CommerceSec news: "Wait, John Bryson is my Commerce Secretary? Who knew. Sure he's #DoingFine.
@AmericanXRoads: Breaking: John Bryson cited for reckless endangerment of the economy and failure to yield to common sense, but he's #DoingFine #TCOT
At about 9:30 ET this morning, the Commerce Department released a statement saying Bryson had suffered a seizure. Within about 30 minutes, American Crossroads deleted the tweets, and posted this: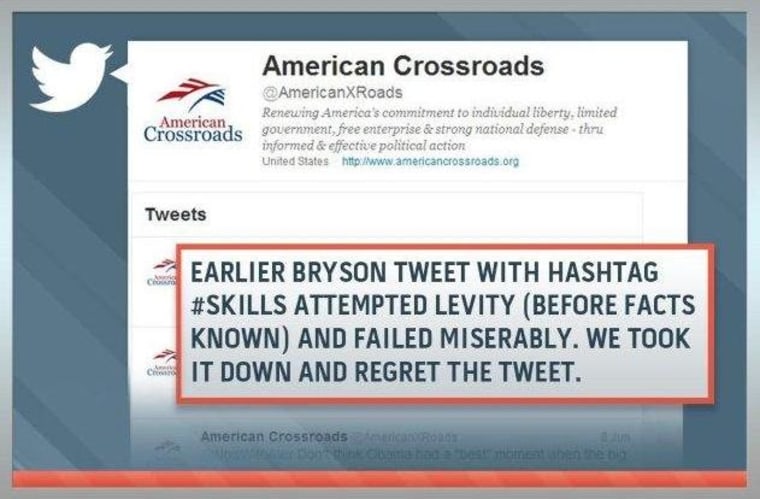 During our discussion, Glenn Thrush of Politico blamed the rush to tweet on what he called the "culture of rapid response," and added, "We've gotten to the point where people need to shut up and wait 'til they know what happened."
A Commerce Department official told the Associated Press that Bryson has a "limited recall" of the events. The official, who spoke on condition of anonymity, said the department was unable to confirm what caused the seizure or when it occurred; either before the car collisions or as a result of them. Bryson had not had a seizure before, the official said.
President Obama commented on Bryson's condition in an interview with KTIV, the NBC affiliate in Sioux City, Iowa. He said he had only found out about the accident earlier Monday, and hadn't personally spoken with the Commerce Secretary. "My hope is that he's doing all right," the president said, adding, "We're still trying to find out, it sounds like it was health related in some way. But we're going to make sure that obviously he gets the best care."
Late Monday night, the White House announced Secretary Bryson will be taking a medical leave of absence. According to a statement from Press Secretary Jay Carney, "The President's thoughts are with Secretary Bryson and his family during this time. Secretary Bryson assured the White House that the Commerce Department staff will not miss a beat in their work helping America's businesses compete."