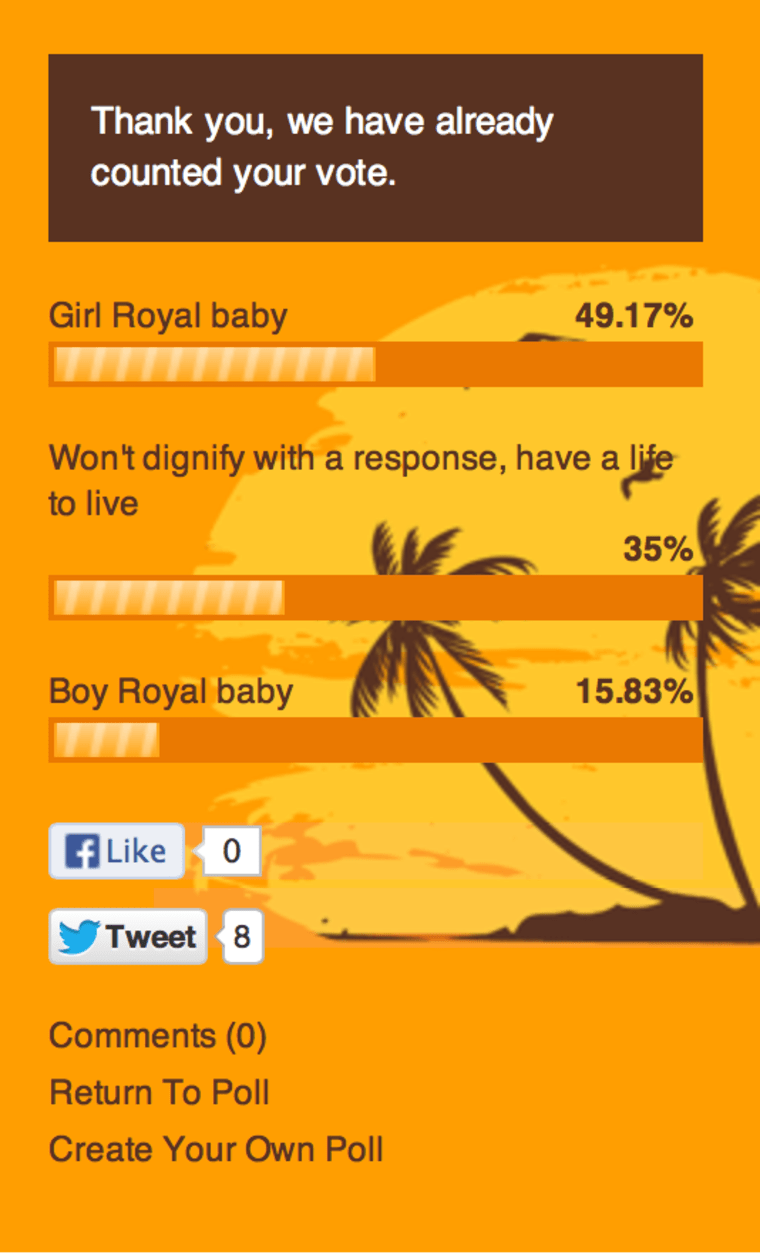 The results from our Royal baby poll are in, dearest Now Nation, and they are shocking. "Royal baby girl" handily beat out "won't dignify with a response" by a whopping 14% margin, proving...something. Now let us not speak of this again until that Royal baby grows up and becomes enmeshed in some sort of Royal scandal.
Joining Alex today on NOW:
Jennifer Duffy, Senior Editor for The Cook Political Report (@jennifereduffy)
Harold Ford Jr., msnbc Political Analyst/Visiting professor at NYC
Jonathan Capehart, The Washington Post/msnbc Contributor (@capehartj)
Jonathan Chait, Daily Columnist, New York magazine (@jonathanchait)
Dr. Zeke Emanuel, Author of Brothers Emanuel, Vice Provost for Global Initiatives, University of Pennsylvania
While most of the world's attention has been focused on London, here at home John Boehner reminds us that Royal babies can come in all sorts of shapes and sizes. On Sunday's Face the Nation, Boehner laid out his groundbreaking anti-governing leadership strategy, namely that the GOP "should not be judged by how many new laws we create...We ought to be judged on how many laws we repeal." This bold proclamation led even mild-mannered Bob Schieffer to comment "I'm not sure I understand what you see as your role as the leader."  Join the club, Bob. In New York Magazine, Jennifer Senior sheds more light on Boehner's non-strategy: "To control his unruly right flank...[he] now allows every harebrained idea this motley, fractious conference has to be aired and, in many cases, to come to the floor." Does the Speaker have any control over the House at this point, and just how ugly are the coming spending bill battles going to get?
The White House has just 70 days to convince the public to enroll in the Affordable Health Care Act's new exchanges, particularly younger American's whose participation a key factor in the program's success. While the President meets with celebrities like Amy Poehler and teen idol Jon Bon Jovi in an effort to get the word out, the GOP is doing its part by trying to kill the bill by refusing to fund it all together. Dr. Zeke Emanuel will join Alex to discuss the difficult path ahead for Obamacare, and whether the GOP could succeed in successfully derailing its implementation.
"I truly believe in my heart and I would bet my life that this substance never entered my body at any point." So said Milwaukee Brewer's 2012 MVP Ryan Braun last year, who, needless to say, was recently suspended for the rest of the season after admitting to using performance enhancing drugs. Coming on the heels of the Alex Rodriguez and Lance Armstrong scandals, is anyone surprised by these stories at this point? Is there anything that can be done?
It all happens at noon ET.