On Tuesday, Rep. Paul Ryan unveiled the GOP's latest fiscal blueprint–a plan which would balance the budget in 10 years by reforming Medicare and turning Medicaid and welfare programs over to the states.
The budget builds on the assumption that the Affordable Care Act would be repealed, while much of the savings that help Ryan balance the budget come from the very same Medicare cuts the former vice presidential candidate campaigned against last summer.
The Washington Post's Ezra Klein joined NOW with Alex Wagner Tuesday to discuss the details of Ryan's latest budget incarnation.
"Fifty-nine percent of Paul Ryan's new cuts come from health care, mostly from the poor," Klein said. On top of that, Klein added that Ryan has a "very implausible tax reform plan" to boot.
Klein's Wonkblog has a good chart demonstrating just how detrimental Paul Ryan's budget would be to low-income Americans as Medicaid sees the deepest cuts over the next decade.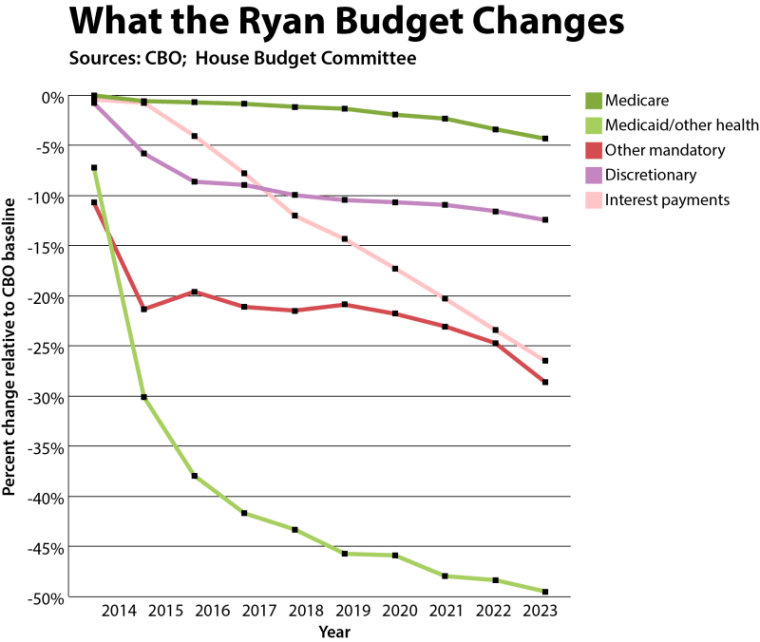 "Paul Ryan's career is not the career of a deficit hawk," Klein said. "He voted for the Bush tax cuts, he voted for the unfunded Medicare Part D entitlement, he voted for the wars in Iraq and Afghanistan."
Although the Ryan budget has little chance of becoming law, it is likely to shape the upcoming budget debate as Senate Democrats release their own plan Wednesday.