Georgia mobilized its special forces on Sunday and warned residents in the capital not to leave their homes after lions, tigers and bears — among other animals — escaped during floods that have claimed at least 11 lives.
Heavy rains and wind hit Tbilisi overnight on Saturday, turning a normally small stream that runs through the hilly city into a surging river. Officials said at least 20 people were injured, while several were missing.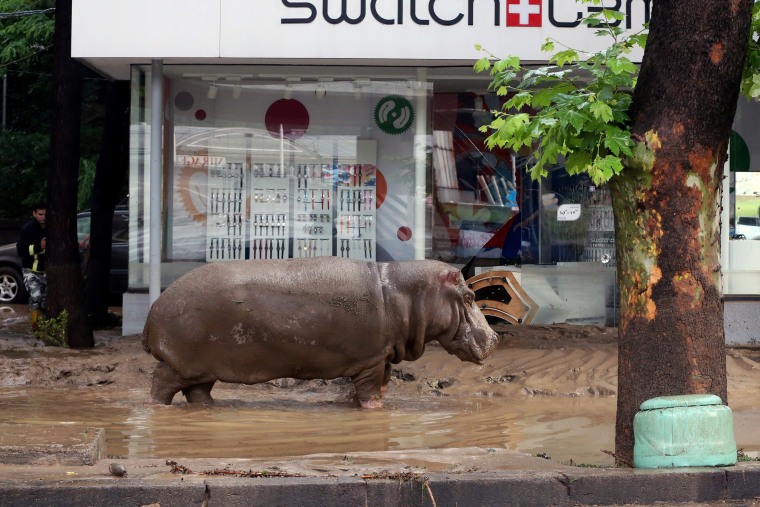 The surging floodwater destroyed enclosures at the zoo, killing some animals and letting loose others.
Georgian Culture Minister Mikheil Giorgadze told NBC News: "The special forces are doing everything to control the situation. We are all mobilized"
It wasn't immediately clear if the eight people were killed from the flooding or animal attacks, The Associated Press reported.
Three zoo workers were killed in the floods, the zoo said. One of them was Guliko Chitadze, a zookeeper who lost an arm in an attack by a tiger last month.
Helicopters were circling the city and residents were told to stay indoors except in an emergency.
A spokeswoman for the zoo told NBC News that many of the animals were killed in the flooding or by special forces, but it was not known how many remained at large.
"Not many animals are still on the loose but it is difficult to say how many are still out there," Mzia Sharashidze said.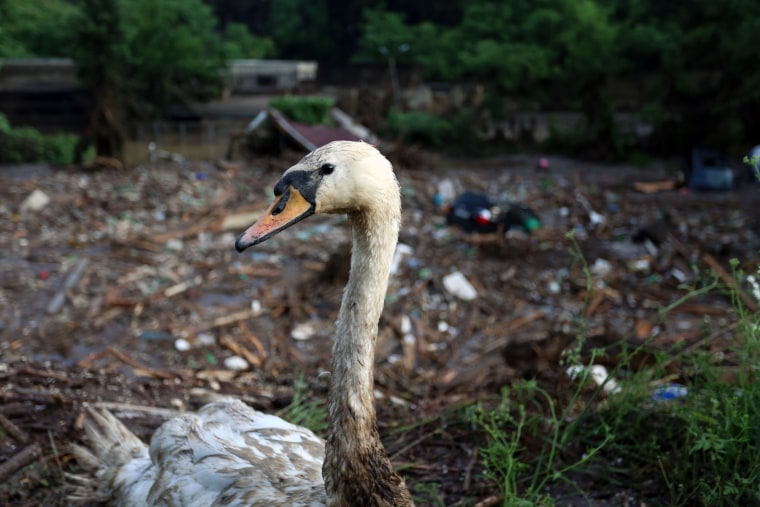 Footage from Tbilisi showed a hippopotamus roaming the streets, while a bear could be seen climbing around an apartment window. The hippo was cornered in one of the city's main squares and subdued with a tranquilizer gun, the zoo said.
Six wolves were shot dead in a yard at an infectious diseases hospital, while NBC News viewed images of a dead lion, hyena, and a wolf — all presumably drowned in the floods.
Tbilisi mayor David Narmania said "we are still counting the cost," of the damage but the amount is expected to run into tens of millions of dollars.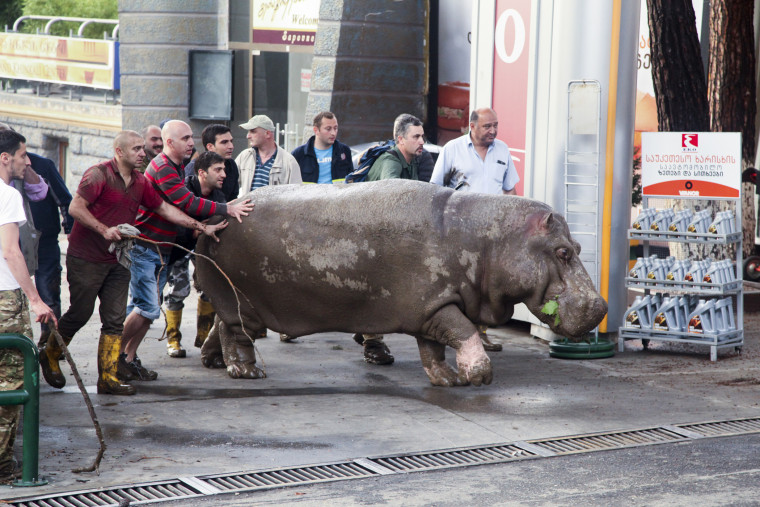 The flooding damaged dozens of houses and left streets covered in mud and debris. Images showed several cars upturned and a fire truck left swamped in the detritus.
Georgia's prime minister Irakli Garibashvili announced the nation would hold a day of mourning on Monday, June 15.
About 1.1 million people live in the former Soviet republic's capital.
NBC News' Matthew Grimon, Ian Sherwood and the Associated Press contributed reporting. This article originally appeared on NBCNews.com.